Lamb is such a flavorful cut of meat, and it's an excellent candidate for braising in a Dutch oven. Lamb shoulder is especially tasty and comes in one-inch thick chops (bone-in). If your butcher has a different cut available from the shoulder, you can substitute that in this recipe.
How to Use Other Cuts of Lamb
For any larger cuts of lamb, you can cut the meat into large cubes (approximately 1-inch pieces) prior to cooking. Test the texture of the lamb at the 45 minute mark. If it seems tender, proceed with the recipe.
If at any point, you believe the texture is not tender enough, simply continue to cook, adding additional water if necessary.

Lamb is an extremely flavorful meat, so the braising liquid doesn't need to be concentrated. This recipe involves sweating onion and garlic for a base flavor. Just prior to adding the water, we also use a blend of middle eastern spices (pictured below).
After an hour of simmering in the flavors of Middle Eastern spices, I'm sure you can imagine that this lamb sucks all that juiciness right up. Savory lamb pairs excellently with a bright and herby sauce.
Serving Suggestions for Lamb Shoulder
Try serving this recipe with zhug (yemenite spiced green sauce) and whole milk plain yogurt (not Greek – it's a bit too clumpy).
On the side, you could serve couscous or a tangy flatbread, like naan.

Why Braise Lamb Shoulder Chops
Braising is an excellent technique for tough cuts of meat that need to be cooked low and slow for the best texture.
Try to use a large Dutch oven to fit the lamb shoulder chops in a single layer and to evenly distribute the heat. To lead up to the braise, I like to sear the lamb first.
This searing and braising technique is the same as the Wine Braised Short Ribs, except the lamb gets cooked in water instead of wine. Obviously water is bland by itself, which is why it's important to season prior to adding the liquid.
Those tiny bits of brown stuff stuck to the bottom of the pan. Yeah, that stuff. It's called "fond," and it's considered a very important part of developing a pan sauce. While you can deglaze (dislodge) the fond with an acidic liquid, like wine, water works equally well here.
How to Make This Lamb Shoulder Recipe Step-by-Step
Brown the lamb on both sides (photo 1). Add the garlic and cook to soften, not to brown (photo 2).
Remove the lamb and sweat the onion until soft – do not burn (photo 3). Add the spices and cook another minute (photo 4).

Return the lamb to the pot and add enough water to barely cover the lamb (photo 5). After 45 minutes, test the texture of the lamb. When tender, add the eggplant and cook an additional 30 minutes, until the eggplant is completely cooked through (photo 6).
Storing Cooked Lamb Shoulder Suggestions
After cooking the lamb and eggplant, transfer to a smaller Tupperware container with the braising liquid. When reheating, add some of the liquid to keep the lamb moist. Will keep well for about 4 days.

Top Tip: After adding the onion to the pot, allow them to sit for about a minute before stirring. Over-stirring prevents "fond" from developing. We want fond because it will give the braising liquid more flavor.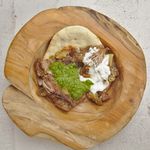 Braised Lamb Shoulder Chops with Eggplant
Lamb shoulder chops are delicious braised in middle eastern spices. Bone-in lamb chops are a great cut for this dish because they contain a lot of connective tissue which melts into a fork tender texture.

Print
Pin
Rate
Ingredients
1

tbsp

extra virgin olive oil

2

pounds

lamb shoulder chops

kosher salt and black pepper

3

cloves

garlic

smashed and peeled

1

whole

medium onion

finely chopped

2

tsp

ground cumin

1/4

tsp

ground allspice

1/4

tsp

ground cinnamon

1/4

tsp

ground coriander

1/2

tsp

red pepper flakes

1

bay leaf

2

pounds

firm japanese eggplant

peeled, cut into 2″ pieces

1

cup

plain whole milk yogurt
Instructions
Heat olive oil in a large Dutch oven over medium -high heat (the pan should be wide enough to fit 4 chops). If you don't have a large enough pot, you can cook the lamb in batches. Season with salt and pepper, and sear the lamb for 5 to 7 minutes until brown.


Add the garlic and lower the heat. Cook for 3 minutes, do not brown the garlic, just soften. Remove lamb chops and set aside. Add chopped onion and a pinch of salt. Sweat onion 4 minutes.


Add spices: cumin, allspice, cinnamon, coriander, red pepper flakes, and bay leaf. Stir and cook spices 1 minute, do not burn.


Return the lamb to the pot. Add just enough water to barely cover the lamb (2 cups). Cover and simmer for 45 minutes.


Add the eggplant. Cover again and simmer everything until the lamb and eggplant are fully tender, 30 minutes.


Taste and serve on couscous or on a piece of flatbread. Top with a generous spoonful of yogurt and zhug.

Notes
Tips: You can use any eggplant, but the long narrow types (Japanese variety) is ideal because they contain very few bitter seeds.
You can make this recipe using other cuts of lamb shoulder, but you will want to cut it into chunks.
*Recipe adapted from Six Seasons
Nutrition
Calories:
322
kcal
|
Carbohydrates:
17
g
|
Protein:
33
g
|
Fat:
13
g
|
Saturated Fat:
4
g
|
Cholesterol:
99
mg
|
Sodium:
137
mg
|
Potassium:
1051
mg
|
Fiber:
7
g
|
Sugar:
10
g
|
Vitamin A:
200
IU
|
Vitamin C:
6
mg
|
Calcium:
125
mg
|
Iron:
3.7
mg
Some of the links on this page are affiliate links, which may pay me a small commission for my referral at no extra cost to you!
Thank you for being here! Did you make this recipe? Click on the star rating or leave a comment below. I'd love to hear how you got on. Connect with me @thefrayedapron on Instagram or Pinterest.
Similar Recipes that Involve Braising;