So you know how restaurateurs sometimes say, "if we took x off the menu, our customers would riot"? I mean, puh-lease. Sounds like shameless self-promotion to me. Or at least, it did.
You see, when your favorite green sauce disappears, the one you've been eating every week for 2 years, you'll feel like a riot is in order.
Back in my college days, I'd order the falafel pita from Maoz at least once a week. Their falafels were the best in New York, but that's not why I went there. For me, it was all about their mystery green sauce.
Fast forward to now, and I know that green sauce has a name: zhug or skhug. It seems odd to me that one sauce could have so many names, and yet, I don't care. All I know is that you haven't seen a zhug situation until you've seen me ladling the stuff all over a falafel pita.
At least, that was my mission. With zero warning, Maoz changed their zhug recipe. Wua wah.
Like any sane person, at first I rationalized — it would be back. For weeks, I waited. Until one day, I fact checked. A sorry-not-sorry employee told me they had changed the recipe.
Surely, they did this to discourage people like me from dumping their precious sauce all over their pitas. That could get expensive – for them.

Maoz took something that was balanced in EVERY way with mint, lemon, and spices lingering in the background and up and replaced it with an inferior red version, very heavy in the clove department.
Fast forward to now, and I'm pretty much over it. I mean, at least I know what zhug should taste like.
So, when I picked up Six Seasons by Joshua McFadden at the library the other day, I immediately jumped on his recipe for Spiced Green Sauce. He calls for parsley leaves (incidently, so does this one along with Thai chiles), but I don't think parsley is bright enough to lift super savory food.
In order to piggyback off of that original Maoz zhug, my quest to re-create that spicy green stuff was in full effect. This recipe is geared for anything savory. Thanks to the freshness of mint and cilantro, it will party well with lamb or grilled vegetables.
And with St. Patrick's day right around the corner, I think this green sauce is just the ticket.
How to Make Zhug (Yemenite Spiced Green Sauce)
Traditional zhug is made in a mortar and pestle, but you can efficiently do it using a food processor instead.
Step 1 involves toasting the spices in a dry skillet for a few minutes. I like to let my spices cool a bit before grinding to get a nice dry powder. This recipe calls for cardamom seeds (that's what's inside the pods). Go ahead and remove the seeds, then toast.
Step 2 involves adding everything to the food processor. Blitz away until you get a lovely looking puree.
Tah dah. Zhug.
Salt and serve or store for up to 1 week in the fridge.

Suggestions for Serving Zhug
serve with braised lamb over naan bread with yogurt sauce
serve with grilled vegetables like eggplant
add to falafel with pickled vegetables
Best Pro Tip
Wear gloves when handling the serrano peppers. Inevitably, the hot oils get on your hands, and it burns for hours.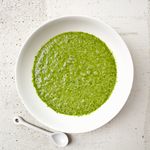 Zhug (Yemenite Spiced Green Sauce)
Zhug is a Middle Eastern hot sauce akin to chimichurri, salsa verde, or chermoula. Fresh and bright with herbs and lemon, this spicy sauce packs a punch.

Print
Pin
Rate
Ingredients
1/2

tsp

coriander seeds

1

tsp

cumin seeds

1/4

tsp

cardamom seeds

(from 4 green pods)

5

serrano peppers

seeds and inner white flesh removed

1

clove garlic

smashed and peeled

2

cups

lightly packed cilantro leaves

2

cups

lightly packed mint leaves

1

pinch

ground cloves

1

tsp

lemon zest

3

tbsp

fresh lemon juice

salt and pepper to taste

1/2

cup

olive oil

extra virgin
Instructions
Combine the whole coriander, cumin, and cardamom seeds in a small dry skillet. Warm over medium heat for 4 minutes to toast the spices. Do not burn them, just heat until fragrant.


Grind the toasted spices in a mortar and pestle or spice grinder. Add the serrano peppers, garlic, and spices to a food processor fitted with a metal blade.


Pulse to combine. Add herbs, cloves, lemon zest and juice, salt, pepper, and olive oil. Puree until smooth.

Notes
Make Ahead Tip: You can make this sauce in advance and store for up to 1 week in the fridge.
*Recipe adapted from Six Seasons cookbook.
Nutrition
Calories:
176
kcal
|
Carbohydrates:
3
g
|
Fat:
18
g
|
Saturated Fat:
2
g
|
Sodium:
8
mg
|
Potassium:
142
mg
|
Fiber:
1
g
|
Vitamin A:
1045
IU
|
Vitamin C:
12
mg
|
Calcium:
43
mg
|
Iron:
1.2
mg
Some of the links on this page are affiliate links, which may pay me a small commission for my referral at no extra cost to you!
Thank you for being here! Did you make this recipe? Click on the star rating or leave a comment below. I'd love to hear how you got on. Connect with me @thefrayedapron on Instagram or Pinterest.