The best way to cook short ribs is using low heat over longer periods of time because then they get tender enough to be worth it. Comparable to steak, this cut has a ton of umami but can be prone to drying out. Braising beef in a combination of red wine and beef broth is a classic way of maintaining both flavor and moisture.
I also like to add a few sprigs of strong herbs like thyme and rosemary because the essence gets absorbed deep into the meat and tastes fantastic.
In this post, I talk about why you might opt for a Dutch oven specifically over a slow cooker, but I'll include instructions for both. Here's a breakdown of the cook times by cooking method:
| Braising Method | Cook Time |
| --- | --- |
| Dutch Oven in the Oven | 2 hours 30 minutes |
| Slow Cooker | 8 hours |
Ingredient Tip: Short rib is a cut of meat from the upper part of the cow's back. It's often used for stewing because it holds up well to long cooking times. Ask the butcher for help locating this particular cut.
For the Dutch Oven Wine Braised Short Ribs, simply see the original Recipe below. Please note that you will need a 5-quart or larger Dutch oven to make this recipe because of the volume of liquid.
Technique Tip: If you can use an enameled Dutch oven, I highly recommend it. As I talk about in my cookbook, Easy Dutch Oven Cooking, cast iron is more likely to react to acidic ingredients like red wine and can impart a slight taste.
Frequently Asked Questions
Should I sear short ribs before braising?
Short rib recipes often call for searing the meat first, which helps develop flavor and caramelizes the surface of the meat. But if you don't want to do that, you can skip the step and just braise the meat until tender.
What wine is best for short ribs?
Short ribs are often served with a red wine sauce, which pairs well with the rich flavor of the meat. A good choice would be a Pinot Noir, such as a Chardonnay or Cabernet Sauvignon. Here, I've gone with an Argentinian red wine called Malbec.
Should short ribs be covered in liquid?
Braising involves simmering liquid partway up the food. You don't want to boil the meat or completely cover it, which would result in a loss of flavor. Rather, you want some of the meat exposed on top.
Can I cook short ribs any other way?
You can smoke them if you mist them with a solution of water and apple cider vinegar. I highly recommend this smoked short rib recipe if you enjoy the taste of barbecue.
How to Make Wine Braised Short Ribs in the Slow Cooker
The following instructions are a modified version of the original recipe (below). Mainly you need to increase cook time and reduce the liquid in the recipe. 
Rub the beef ribs all over with salt and pepper. Heat a Dutch oven over medium heat until hot. Sear the ribs on both sides until golden brown. Transfer the ribs to the slow cooker.
Pour in 2 cups red wine, 1 cup beef stock, and add 3 cloves garlic, peeled and smashed. Herbs are optional. Cook on low for 8 hours. Season with salt and pepper. 
*Note: You won't get the same depth of flavor or consistency of sauce for serving with this cooking method.
Serving Ideas:
 Since the ribs are so savory, a good side dish is anything starchy. Polenta or herb infused mashed potatoes are classic choices. You could even try some collard greens for something fresh to contrast the richness of the dinner.
Make-Ahead Tip: I actually prefer the way these ribs taste after they get reheated the next day. Feel free to prepare the entire recipe a day ahead. You can put an enameled Dutch oven directly in the refrigerator after a 20-minute cooling period. Simply reheat and serve out of the same pot.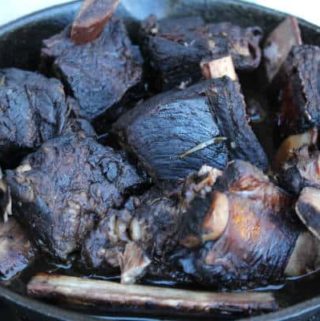 Wine Braised Short Ribs
These short ribs get braised at a low temperature, slowly for a tender and flavorful meat. Short ribs have just a little bit of texture after 2 1/2 hours in the oven. I like my short ribs at this stage, but if you really want them to fall apart (and off the bone), go ahead and leave them in the oven another 30 minutes. You can serve these right away or store them for up to 4 days separated from the braising liquid. Simply reheat the ribs in the burnished-mahogany sauce and you've got one satisfying dinner.
Print
Pin
Rate
Ingredients
4

pounds

short ribs

kosher salt and freshly ground black pepper

2

c

full-bodied red wine

Malbec

32

ounces

beef stock

1

head

garlic

halved horizontally

2

bay leaves

6

sprigs

fresh thyme

4

sprigs

fresh rosemary
Instructions
Prepare the ribs by trimming excess fat and and season them well with salt and pepper. Transfer the ribs to a large heavy pot over medium heat. Sear the ribs, turning often, for about 20 minutes, until crisp and brown on all sides.

Meanwhile, preheat the oven to 350°F.

Pour wine over the ribs and add beef stock to almost cover them. Add the garlic and herbs and season with salt and pepper. Bring to a boil, then set in the oven and braise for about 2 1/2 hours, or until the meat is tender enough to cut with a spoon.

When the ribs are done, transfer them to a large serving platter or a bowl and cover with foil. Strain the burnished-mahogany sauce through a fine mesh strainer over a bowl and skim off fat (this is easier to do after refrigeration). At this point, the sauce and ribs can be refrigerated, to serve the next day; reheat the ribs in the sauce before serving.
Nutrition
Calories:
477
kcal
|
Carbohydrates:
5
g
|
Protein:
45
g
|
Fat:
22
g
|
Saturated Fat:
9
g
|
Cholesterol:
130
mg
|
Sodium:
446
mg
|
Potassium:
1194
mg
|
Sugar:
1
g
|
Vitamin A:
50
IU
|
Vitamin C:
3.1
mg
|
Calcium:
49
mg
|
Iron:
5.8
mg
My favorite way to cook short ribs is in a Dutch oven in the oven because while the beef cooks, the braising liquid reduces into a flavorful sauce. This red wine sauce is savory with a hint of sweet and pairs nicely with potatoes or polenta.
Some of the links on this page are affiliate links, which may pay me a small commission for my referral at no extra cost to you!
Thank you for being here! Did you make this recipe? Click on the star rating or leave a comment below. I'd love to hear how you got on. Connect with me @thefrayedapron on Instagram or Pinterest.