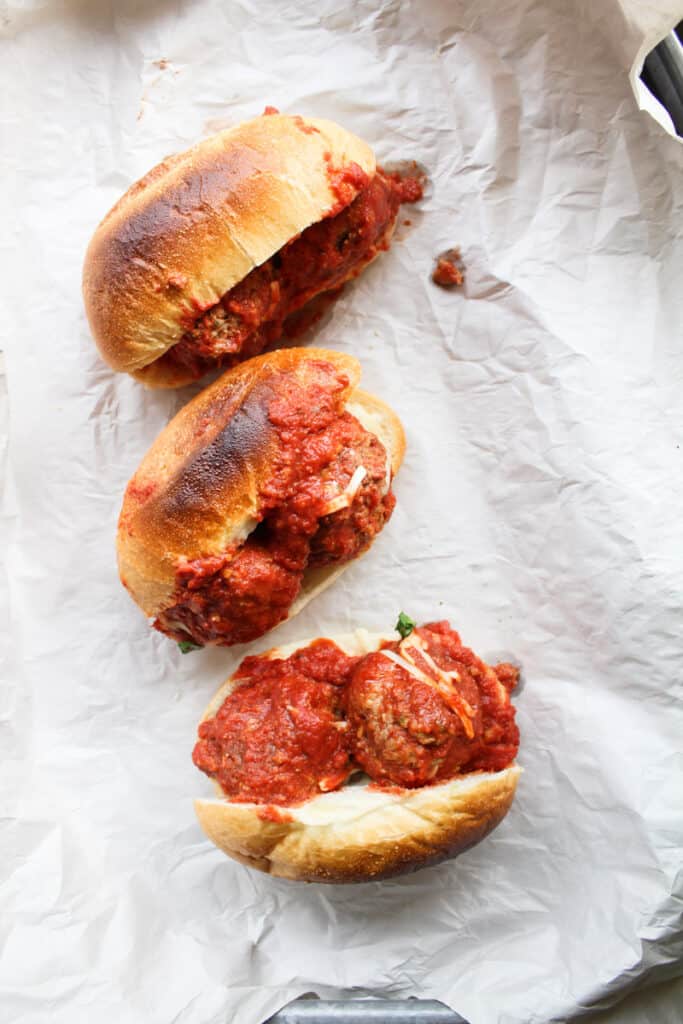 A sturdy cast iron cauldron will be the secret to your Italian meatballs. Just like a good Italian grandmother, she imparts lovingly all that she has absorbed. Whether your Dutch oven is enamel coated or has the live edge of iron, your meatballs will cook in 30 minutes poached in red sauce.
These jumbo meatballs make use of a combination of beef and pork for succulence. Milk drenched bread crumbs make for the tenderest meatball that just holds together. One bite, and these meatballs positively burst with juices.
*If you are here looking for the gluten free, paleo, whole30 version of these meatballs, check out this modified version where I use almond flour in place of breadcrumbs.

…Make the Bread Crumbs
An opportunity to buy marked down bread is worth a smile. Look for day old french bread or allow your bread to go stale so you can grind it up. A simple food processor creates the freshest bread crumbs in under a minute. Simply press pulse until you see coarse sand.

Steps to Cooking Perfect Meatballs
Step 1
Soak the breadcrumbs in a small amount of milk.
Step 2
Use a combination of ground beef and pork for the perfect balance of flavor and fat. Toss the meat with soaked breadcrumbs, eggs, cheese and Italian seasoning.
Step 3
Gently form the meatballs into even balls. Brown them in the Dutch oven over medium heat. They will be fragile at first but will firm up a bit as they cook.
Step 4
Layer the flavors right alongside the meatballs (bay leaves, red pepper flakes, Italian seasoning, salt and pepper).
Step 5
Use a combination of tomato paste and crushed canned tomatoes to create a flavorful Italian tomato sauce with all the beefy juices. The meatballs will get poached in the liquid, which will keep them moist and succulent.
Forming Meatballs
Be prepared for clingy and sticky. Minimum handling is in the rule book for making tender meatballs. Therefore, try to work quickly while the meat is cold. Try using an ice cream scoop with a handle release for a uniform size. Once they are formed, try not to move them too much or they will fall apart. Browning them will cause them to firm up just a bit, so take care when flipping over. If a meatball breaks, just leave it alone so it can make your sauce richer with flavor.
Such tiny sacrifices are to be expected when aiming for results. And for heavens sake, leave the lid on so you don't end up with hot lava all over your stove (or worse, your hand).
Pro Tips: Do not over handle the meat when forming meatballs as this causes them to become dense. This recipe makes incredibly tender meatballs, so try not to over-stir when browning (they are fragile). Don't worry, they will firm up during the cooking process.
If you like this recipe, you might also enjoy my cookbook: Easy Dutch Oven Cooking which features 100 classic and contemporary recipes in 5 steps or less.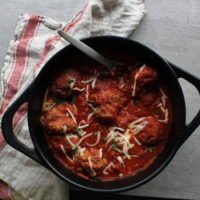 Dutch Oven Meatballs
Dutch oven meatballs get poached in an Italian tomato bath in just 30 minutes. What you get is about 10-12 tender meatballs with a large pot of red sauce for spooning over spaghetti or enjoying inside of miniature subs. You can freeze these meatballs — Leftover meatballs are even more flavorful!

Print
Pin
Rate
Ingredients
1

cup

Italian breadcrumbs

1

T

milk

1

pound

80% lean ground beef

1

pound

ground pork

1/4

cup

yellow onion

minced

2

cloves

garlic

minced

2

T

flat leaf parsley

chopped

2

eggs

1/2

cup

shredded parmesan cheese

2

whole

bay leaves

1/2

tsp

crushed red pepper

1/2

tsp

Italian seasoning

6

oz

canned tomato paste

2

28 oz

canned crushed tomatoes

salt and pepper

for seasoning

1

oz

fresh basil

for serving

6

small

bread loaves

if desired
Instructions
Toss the breadcrumbs with the milk in a large bowl until they soak it up. Add the beef, pork, onion, garlic, parsley, eggs, and parmesan cheese on top and season with salt and pepper. Mix by hand just until combined.

Use an ice cream scoop or hands to form 10-12 balls of meat. Very gently place them into the bottom of a large pot or 5-7 quart Dutch oven. Brown over medium heat, about 5 minutes, then gently flip over using a spoon to brown the other side.

Create a flavorful sauce. To the same pot with the meatballs, add bay leaves, crushed red pepper, Italian seasoning, and a generous sprinkle of salt and pepper. Top with tomato paste and crushed tomatoes.

Cook covered on low heat for 30 minutes, until the internal temperature of the meatballs reads 160°F. Serve meatballs nestled inside toasted white subs with freshly torn basil and parmesan cheese.
Notes
Freeze: After cooking, remove lid to allow steam to escape. Piping hot sauce does not cool well in the freezer so allow 10 minutes before attempting to store. Disperse the meatballs and sauce into sealed bags or containers for freezing — they freeze faster this way. Transfer to the refrigerator to thaw 1 day ahead. Store frozen up to 3 months or refrigerate up to 4 days.
*Recipe adapted from a slow cooker version by chef savvy.
Nutrition
Calories:
557
kcal
|
Carbohydrates:
21
g
|
Protein:
34
g
|
Fat:
36
g
|
Saturated Fat:
14
g
|
Cholesterol:
180
mg
|
Sodium:
725
mg
|
Potassium:
802
mg
|
Fiber:
2
g
|
Sugar:
5
g
|
Vitamin A:
1055
IU
|
Vitamin C:
10.8
mg
|
Calcium:
193
mg
|
Iron:
4.7
mg
Did you just wolf down a meatball sub? If there's still time, snap a pic and tag me @thefrayedapron on Instagram. I wanna see! Please follow me on Pinterest for a visual bank of inspiration.

More Recipes to Try