Most puddings are thickened with eggs or starch, whereas, the posset is thickened with citrus (typically lemon). Nothing can prepare you for the light, creamy texture of these tangerine possets. There's something so refreshing about a cold posset topped with tangy tangerine segments.
While I couldn't possibly pick a favorite, my husband swears these are the best dessert he's ever eaten.
Why this tangerine posset recipe works:
Back when I worked in a fine dining restaurant, we made lemon possets infused with vanilla bean and garnished them with grapefruit. This tangerine version came about as an experiment to see whether an orange is acidic enough to thicken the posset cream. Turns out, it is! With 3 ingredients (tangerine, heavy cream, and sugar), you can make a rich yogurt-like dessert that's sweet, milky, and just a bit tart.
FAQ
Why does posset set? Full fat dairy thickens when combined with a small amount of acid. Tangerines are the most acidic oranges, coming in at pH 3.9 – lemon has a pH of 2.3. Sugar adds viscosity, causing the mixture to thicken and set into a luscious consistency when chilled.
Why is my posset grainy? A posset will be grainy if you curdle the cream. This can happen if the cream is too hot and you add too much acid. I highly doubt you will experience this with tangerine juice as it is less acidic than lemon juice. Just follow the recipe instructions which tell you to remove the cream from the heat before adding the tangerine juice.
Can posset be made the day before? Possets are an ideal dessert because they can be made ahead and kept chilled and covered for up to 1 week.
Why won't my posset set? A posset needs time to chill to set. The larger the container, the more time it needs. For a very small container, chill for 3 hours minimum. The only other explanation is that the ratio of acid to cream was off. Use heavy cream (double cream) – not milk. Use the juice of 1 lemon or 1 tangerine in this recipe. You will see the cream thicken a bit right away.
More Creamy Dessert Recipes
silky smooth lemon possets with kumquats
lemon custard ice cream (yes, this recipe even works with tangerines)
lime cheesecake bites with toasted coconut
For a gourmet presentation, I highly recommend chilling and serving these possets in small dessert glasses. While this recipe yields 4 portions, you could double the recipe to make more.
Did you make this recipe? Give it a star rating and comment below!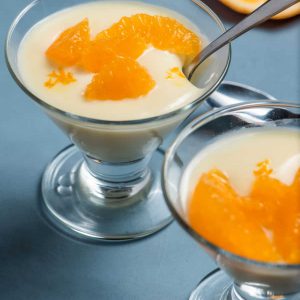 Tangerine Posset
A 3 ingredient tangerine posset recipe that results in irresistibly smooth and creamy puddings.
Print
Pin
Rate
Ingredients
1 1/4

cup

heavy cream

1/3

cup

granulated sugar

2

tangerines

1 for juice, 1 for garnish
Instructions
Add the cream and sugar to a small pot over medium heat. Stir continuously as you raise the liquid to a simmer. Once the cream comes to a rapid boil, immediately lower the heat to maintain a low simmer for 3 minutes.

Juice 1 tangerine. Stir the juice into the cream off of the heat. You will see it thicken slightly. Stir for another minute, then pour into 4 small ramekins or serving glasses. Cover with plastic cling wrap immediately and refrigerate for 3 hours or up to 2 weeks.

To serve: Remove the plastic wrap and garnish with tangerine segments. You can cut them into supremes for a cleaner look. Add a little tangerine zest for freshness.
Notes
How to remove a skin on the cream?
The purpose of stirring constantly is to prevent a layer of skin from forming on top of the cream. If this happens, then simply take a spoon and wrap the skin around it and throw it away. Get the thickened cream portioned into glasses and protected under plastic wrap to prevent another skin from forming.
Can I substitute lemon? 
You can use the juice of 1 lemon in this recipe. However, I would not recommend substituting any other orange juice in this recipe because tangerine juice is the only one acidic enough to work.
Can I use milk?
I would not recommend using milk because when you switch from heavy cream to milk, you lose a considerable amount of fat. This dessert is all about the thickening process of cream to acid to sugar.
Nutrition
Calories:
344
kcal
|
Carbohydrates:
25
g
|
Protein:
2
g
|
Fat:
28
g
|
Saturated Fat:
17
g
|
Cholesterol:
102
mg
|
Sodium:
29
mg
|
Potassium:
129
mg
|
Fiber:
1
g
|
Sugar:
21
g
|
Vitamin A:
1393
IU
|
Vitamin C:
12
mg
|
Calcium:
65
mg
|
Iron:
1
mg
Some of the links on this page are affiliate links, which may pay me a small commission for my referral at no extra cost to you!