I love the simplicity of a chilled cream-based dessert with citrus. There's the lemon custard ice cream which requires an ice cream machine. Then there's these lemon possets, which require no special equipment. These are the sequal to the tangerine possets I shared, where you thicken heavy cream with the acidity of citrus juice.
The texture will remind you of a thick and creamy yogurt.
There's just lemon juice in this dessert, but I garnished the top with sweet and tangy kumquats to add a little texture and some fun flavor. Of course, you can enjoy these possets as-is or with a number of fresh fruit garnishes. I tested grapefruit and strawberry and enjoyed them all.
Watch How to Make Possets with Lemon Juice, Cream, and Sugar:
What is lemon posset made from?
A lemon posset consists of 3 simple ingredients: heavy cream, granulated sugar, and lemon juice.
To get started, you will need:
How long does it take for the cream to set?
You can see the cream mixture thicken immediately when you add the lemon juice, where the lemon juice acidifies the cream, causing the casein proteins in the cream to clump. Since the fat in the cream prevents the casein from clumping tightly; instead of curdling as milk would, the mixture thickens. You will still need to refrigerate the possets for the silky, yet thick texture, between 4 hours and overnight.
How long will lemon possets keep?
You can store the possets, covered tightly in plastic wrap, in the refrigerator for as long as 7 days, and the texture will be just as good on day 7.
What's the difference between heavy cream and heavy whipping cream?
Heavy cream vs heavy whipping cream: they are virtually the same thing. Both contain 36% or more milk fat, so feel free to use either one in this recipe.
Technical Tip: You should watch out for curdling when thickening cream with lemon juice. You are only at risk of curdling the cream if you add more lemon juice than the recipe calls for or if you forget to remove the cream from the heat before adding the lemon juice.
The good news is, even if the posset curdles a bit, it will still taste good:)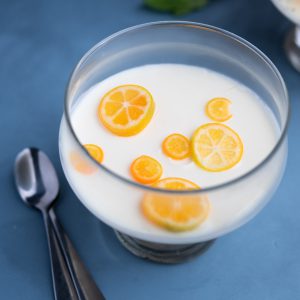 Lemon Posset with Kumquats
These lemon possets are cool and silky smooth made simply from cream thickened with lemon juice. Enjoy this rich dessert with some fresh berries, grapefruit, or thinly sliced kumquats.
Print
Pin
Rate
Ingredients
1 1/4

cup

heavy cream

1/3

cup

granulated sugar

1

lemon

juiced

grapefruit segments or fresh strawberries

for garnish, optional
Instructions
Add the cream and sugar to a small pot over medium heat. Stir continuously as you raise the liquid to a simmer. Once the cream comes to a rapid boil, immediately lower the heat to maintain a low simmer for 3 minutes.

Juice 1 lemon. Stir the juice into the cream off of the heat. You will see it thicken slightly. Stir for another minute, then pour into 4 small ramekins or serving glasses. Cover with plastic cling wrap immediately and refrigerate for 3 hours or up to 2 weeks.

To serve: Remove the plastic wrap and garnish with grapefruit segments or any fresh berries you like. You can also add a few strips of fresh basil, for a fresh garnish.
Notes
How to remove a skin on the cream?
The purpose of stirring constantly is to prevent a layer of skin from forming on top of the cream. If this happens, then simply take a spoon and wrap the skin around it and throw it away. Get the thickened cream portioned into glasses and protected under plastic wrap to prevent another skin from forming.
Can I use milk instead of cream for a posset?
I would not recommend using milk because when you switch from heavy cream to milk, you lose a considerable amount of fat. This dessert is all about the thickening process of cream to acid to sugar.
Nutrition
Calories:
329
kcal
|
Carbohydrates:
21
g
|
Protein:
2
g
|
Fat:
28
g
|
Saturated Fat:
17
g
|
Cholesterol:
102
mg
|
Sodium:
29
mg
|
Potassium:
93
mg
|
Fiber:
1
g
|
Sugar:
17
g
|
Vitamin A:
1093
IU
|
Vitamin C:
15
mg
|
Calcium:
55
mg
|
Iron:
1
mg
Some of the links on this page are affiliate links, which may pay me a small commission for my referral at no extra cost to you!