Notice that amber hue? Is there anything better than the contrast of bittersweet caramel juxtaposed with milky custard?

Flavors: Sweet, Bitter
Mouthfeel: Creamy, Smooth, Sticky
Creamier Flan? What's with the ricotta?
Unlike traditional flan, these ricotta flans are ultra creamy and truly, madly, deeply delicious. Due to whipped cream cheese and ricotta, this dessert shares qualities with cheesecake (if cheesecake was light and custardy).
I realize there are many traditionalists out there when it comes to the classics. It's totally personal preference, but I vastly prefer this version for its punctuated flavor (cream cheese) and dreamy texture (ricotta whipped with egg) on the tongue.
It's cooling and light – exactly as rich as a summer dessert should be.
*Fair warning. If you have a sweet tooth like I do, beware. After 4 days of eating 14 ramekins of flan, I actually wanted more.

Notes on What to Expect with this Ricotta Flan Recipe
Flan recipes frequently warn: do not whip air into the custard.
Ready for some good news?
The ricotta makes this recipe very user friendly. No more bubbly ricotta problems. It's easy to cream the base using a stand mixer plus whisk attachment and you will have a glorious (easy) time with this recipe. As an alternative, use egg beaters.
Making the caramel can be a challenge, so read the instructions carefully. Heating sugar for flan takes some practice, which is why I'm going to walk you through it.
Caramel Making 101: shaken, never stirred
Something about a pot full of sugar and water scream STIR ME, but that is the cardinal sin of caramel making.
If you stir anyway (maybe you're the curious type). You will end up with sugar that seizes into a sorry bunch of sugar chunks. To save your sugar, simply add more water and start the process again. Only this time, DO NOT STIR.
To prepare you for what's ahead… Imagine staring at a pot of sugar water that refuses to do anything.
Nothing. 2 minutes.
Nothing. 3 minutes.
Nothing. 4 minutes.
Then, suddenly you see bubbles with a slight hue of gold. This is the moment you've been waiting for! Jiggle and swirl the pot a bit so that your amber hue spreads evenly.
Just how amber is 'dark amber' anyway?
I would say it's ambiguously in the 15 seconds between light amber and burnt. Sorry, but it's the best possible description!
Some people use a wet pastry brush to brush the sides of the pot in the early phases of melting the sugar. I don't like using pastry brushes because they tend to retain oils and flavors so you can skip this step.
Other people use a lid as they're beginning to heat their syrup. Both the lid and pastry brush serve to keep the sugar from forming a dry crust on the sides of the pot. In my experience, it doesn't matter if this happens so I say, let the sugar crystallize on the sides a bit.
To tent your flan or not to tent?
Some people hate a flan with a skin. I'm Switzerland on the issue at the moment, but if you're having this issue with your flan, you can
tent your flans by folding a large piece of tin foil in half and covering them while they bake
This will keep the top very silky smooth. I tried it both ways with this particular recipe, and ?
I didn't think it made a noticeable difference, so I decided to save myself (and you all) from wasting tinfoil.
When you turn the flan out of the ramekin, you may see caramel crystallized in the bottom. You can warm it in the microwave using 20 second intervals.
This will soften the caramel just long enough to form thin strands of sugar (pictured below), but you can't pour this sauce over your flan without it hardening like a candy apple.
Since I like pressing sugar into strands with spoons, I decided to go this route. Turns out, this is a really fun texture element for serving flan with the caveat that the sugar strands can be difficult to eat (read: sharp).
Hardened flan sugar can be heated to make a sugar garnish.
Caramel left in ramekin (and how to get it out)?
If you want to use the hard caramel left in the bottom of the ramekin as a sauce for your flan, your best bet is to add a tablespoon of boiling water and allow it to sit for a while. This will break down the sugar and retain the flavor of the caramel.
Make Ahead Tip: After 2 days in the refrigerator, flan sauce returns to a liquid state (all sugar crystals dissolve) and tastes fabulous.
Leftover Custard and Storing
You may have leftover custard depending on the size of your ramekins. It stores nicely in a sealed container in the fridge for several days and makes for excellent ice cream!
To make flan ice cream:
Warm the flan mixture while whisking until it begins to thicken
Transfer to your ice cream machine and chill
Just like that, you will have custard style flan ice cream.
Did I miss anything? You can ask me any questions in the comments below. I always respond.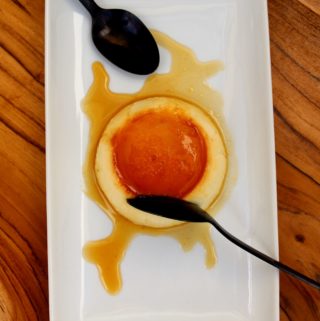 Creamier Ricotta Cheese Flans
These flans get their unique creamy texture from ricotta and cream cheese. They require at least 3 hours of refrigeration and can be made ahead and served 4 days out. You will need either 8 6-ounce ramekins or 10 4-ounce ramekins.

Print
Pin
Rate
Servings:
8
6-oz ramekins or 10 4-oz
Ingredients
8

oz

cream cheese

1/2

cup

ricotta cheese

2

cups

cane sugar

divided

2

large

egg yolks

4

large

eggs

1 1/2

cups

whole milk

1

cup

heavy cream

1 1/2

teaspoons

pure vanilla extract

Pinch

of kosher salt

Boiling water
Instructions
Preheat the oven to 350℉. Line a baking dish with a double layer of paper towels and set the ramekins on the towels. To make the custard, use a stand mixer fitted with a whisk to beat both cheeses with 1 cup of sugar, scraping the sides with a spatula. Mix until very smooth, 2 minutes. Beat in the yolks and whole eggs one at a time until incorporated, then add the milk, cream, vanilla, and salt. Set aside.

Next make the caramel sauce that will go in the bottom of each ramekin. In a medium pot, combine the remaining 1 cup of sugar with 1/3 cup of water. Over low heat, stir until sugar dissolves, then increase heat to medium high to bring the syrup to a boil. Do not stir, but occasionally swirl the pan. Cook until a deep amber caramel forms, about 10 minutes. Working quickly, pour the caramel into 10 4-oz ramekins or 8 6-oz ramekins, swirling to coat the bottoms.

Pour the custard into the ramekins, filling to the top. Open the oven door, and set the baking pan with ramekins inside on the door while carefully filling the pan with enough boiling water to reach halfway up the sides of the ramekins. Carefully transfer the pan to the center oven rack.

Bake the flans for 50 minutes or until edges are set and the center retains a slight jiggle. Use tongs to carefully transfer ramekins to a rack to cool completely. Refrigerate covered with plastic wrap for at least 3 hours or preferably overnight.

Set ramekins in a shallow dish of hot water to soften caramel. Run a small offset spatula around the outside edge of each ramekin and invert the custard over a plate. If the custard doesn't come out, break the suction by tapping gently or encourage the flan by gently pressing one edge with an offset spatula. Serve immediately.
Notes
Optional: If your ramekins have a crystallized layer of caramel remaining after removing the custard, simply warm in the microwave for 20-30 seconds to soften. Coat the back of 2 spoons with the hot caramel and press them together. Quickly pull them apart to form strands of sugar. Repeat this until you have thin strands of caramelized sugar. Place the sugar work on top of the flan and serve immediately.
Make Ahead: Flans can be covered and refrigerated for 4 days.
Nutrition
Calories:
490
kcal
|
Carbohydrates:
55
g
|
Protein:
7
g
|
Fat:
27
g
|
Saturated Fat:
15
g
|
Cholesterol:
222
mg
|
Sodium:
141
mg
|
Potassium:
151
mg
|
Sugar:
53
g
|
Vitamin A:
1145
IU
|
Vitamin C:
0.2
mg
|
Calcium:
147
mg
|
Iron:
0.5
mg
*Adapted from Food and Wine
This post was updated to add troubleshooting information and republished.
Some of the links on this page are affiliate links, which may pay me a small commission for my referral at no extra cost to you!
Thank you for being here! Did you make this recipe? Click on the star rating or leave a comment below. I'd love to hear how you got on. Connect with me @thefrayedapron on Instagram or Pinterest.