It's Saturday and tomorrow is the premier of Game of Thrones, so I might as well give you something meaty and primal to cook. Now, if you're impatient about barbecue, beware, because these short ribs need to be cooked low and slow for that melt in your mouth texture.
So queue Game of Thrones, maybe even start with last season and take little walks out to the grill. I promise it will so be worth it!
At first, I was hesitant to stray from braising these short ribs. My wine braised short ribs are popular for a reason. But, the weather has been a balmy 70° so I decided to light up the smoker once again.
A couple weeks ago, I shared these amazing Chinese BBQ Spare Ribs which took about 6 hours, so I was curious to see how beef would measure up. What I learned is that beef and smoke are best friends. Also, that low heat, a longer cook, and extra rub are all good ideas.
Turns out, I'm thrilled to share this killer recipe with you guys! Short beefy ribs, smoked until tender and juicy might just be my most indulgent dinner yet.
Beef ribs are a special once-in-a-while type treat, but they may just be my own personal favorite cut of barbecue.
Getting It Right: How to Choose Beef
Before I barbecue anything, I research the cut of meat extensively because I want to know things like: How long will this cut of meat take to cook? What is the ideal temperature for lean beef? I found this website helpful if you want to see pictures.
Today, we are working with an English style short rib cut from the chuck that's typically used for braising. For the average person who dabbles in barbecue, short ribs are not recommended. This is only because people get impatient and cook things at too high of a temperature. That said, beef ribs are pretty easy to cook. Just keep your barbecue temperature range between 225-275° F and you will have decadent, succulent, and flavorful beef.
How to Prep Beef Short Ribs
No need to trim short ribs. There's not a lot of fat to remove, and the little bit of connective tissue can stay on where the bone attaches. Look for short ribs with a lot of marbling. The more marbling, the better the flavor. Even if you don't like spicy food, you might want to try a light slather of hot sauce.
This is my preference for sure, and you don't get a lot of heat after they cook. The hot sauce gives the dry rub something to stick to. I rub beef heavier than pork because there's more fat. Aim for about 1/3 cup rub for every six ribs.
The Rub
Like any good pit-master, I stick to the basics of kosher salt and black pepper flakes (not freshly ground). Unlike pork, beef can handle a higher proportion of salt. Aim for equal parts black pepper and salt.
Take a 1/3 measuring cup. Fill it halfway with kosher salt. Top it off with pre-ground black pepper. Sprinkle at a great height over the short ribs to evenly coat.
The Cook
Start the fire and fill the water pan. When the smoker reaches 275°F, you can put the ribs on. Do not allow the ribs to be exposed to high heat or they will develop a crust too quickly. This is very easy to do, so try to add smaller pieces of fire wood, one at a time.
Short ribs take anywhere from 7 to 9 hours so queue Game of Thrones and grab a cold beer while you're waiting. No need to wrap beef ribs at all but do keep a close eye on the water pan. If you have a water bottle, go ahead and spritz the ribs during the final 2 to 3 hours of cooking. Evidence of a good job will be a red ring of smoke that penetrates deep into the meat.
I start cooking, meat side up and then flip half way through. Check for doneness by poking the meat; they are done when they feel like melted butter.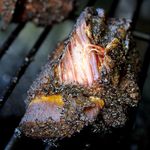 Barbecue Beef Short Ribs
Cooked low and slow over fire, these beef short ribs are succulent and flavorful. While they are simple to make, you will need to maintain a low, even 250-275°F temperature until the meat feels jiggly and soft.

Print
Pin
Rate
Ingredients
6

beef short ribs

European Cut, on bone

2

tbsp

hot sauce

such as Tapatio or Chollula

1/3

cup

beef rub

equal parts kosher salt and black pepper

spray bottle of water

seasoned firewood

preferably oak or hickory
Instructions
Get a fire going and let the wood really ignite while you prepare the short ribs. Heat the smoker to 275°F and check that the water pan is full. I like to place my water pan next to the fire.


Slather the ribs with a light coating of hot sauce. Then sprinkle generously and at a great height with the beef rub (equal parts pepper and salt).


Cook the ribs at a consistent temperature of 250-275°F for 3 hours. Spritz with water during the remaining 5 hours or so to keep the ends from burning.


Check for doneness around 7-8 hours. They will be slightly jiggly and will feel like melted butter when pressed. Inside, the meat should be extremely tender. Allow to rest for 30 minutes before serving.

Notes
To prevent the grill from getting overly hot, be sure to only add small pieces of firewood at a time. If your ribs are exposed to too much heat, open the lid to allow the temperature to drop and adjust how much wood you add going forward.
An internal temperature will read 203°F when done, but temperature is not an indication of when to remove meat during barbecue. Always trust the consistency or texture before removing meat.
This recipe assumes each person will want about 2 ribs, but feel free to make more for left-overs since a lot of time goes into barbecued short ribs.
Nutrition
Calories:
382
kcal
|
Protein:
42
g
|
Fat:
22
g
|
Saturated Fat:
9
g
|
Cholesterol:
130
mg
|
Sodium:
372
mg
|
Potassium:
800
mg
|
Vitamin C:
6.5
mg
|
Calcium:
18
mg
|
Iron:
4.8
mg
Beef Sides

Now that you've got an incredibly flavorful main that stands on it's own, you will do well to keep it very simple. White rice and dilly beans or pink radish pickles are the perfect compliment to the savory, fatty beef. Otherwise, an acidic salad would be an excellent way to round out the meal.
Thank you for being here! Did you make this recipe? Click on the star rating or leave a comment below. I'd love to hear how you got on. Connect with me @thefrayedapron on Instagram or Pinterest.