I've had a fascination with gnocchi since I was 17, when I met my husband. We used to go to a family owned Italian restaurant up the street. They had the best gnocchi, at least that's what I thought back then.
I lived in New York for 9 years, and it wasn't until I joined my friend for a bon voyage dinner at Rosso Pomodoro that I was first introduced to ricotta gnocchi. If you've never had it, it's a slightly richer, milkier version of the potato dumplings – only impossible to stop eating.
Have you made gnocchi before?
It's actually very easy to make homemade gnocchi with a few basic tools and techniques…I've been making it for 15 years, and it's taken a lot of experimentation to figure out how to get a more tender dough that holds its shape while cooking. To tender, and it falls apart. Too firm, and it's overly dense and gummy. Armed with these 5 tips, you will be able to make beautiful little knuckles right away. So, let's talk gnocchi making 101.
5 Tips for Making the Best Gnocchi
What potato is best for gnocchi? When it comes to gnocchi, it's all about starch. You want to use a mature potato that's high in starch, like a Russet or Idaho potato – no new potatoes or waxy varieties. Give them a good scrub to remove any dirt and pierce them a few times with a knife.
Tip 1: Bake Potatoes
Whatever you do, you must bake the potatoes until completely tender. Lay them on top of a bed of kosher salt on a baking sheet. Stab them a few times and into the oven they go for at least 1 hour. You want the moisture that lives deep inside the potato to exit through the skin. Given some time, that steam will provide you with a prime ingredient for puffier little pillows.
Tip 2: Get to the Potatoes When They're Warm
Right out of the oven, the potatoes will be too hot to handle. Let them continue to cook and steam for up to 45 minutes. Just get to them while they're still warm. Ideally, you do not want to bake the potatoes ahead of time because they really shouldn't be refrigerated for the best textured gnocchi.
Tip 3: Use a Food Mill or Ricer
If you don't have a ricer, then regrettably, that's a problem. For best results, you should invest in an affordable ricer because it will give you perfect mashed potatoes. Unlike a potato masher, a ricer has tiny little holes, so you can press the baked potato through. A warm, thoroughly baked potato will glide right through in seconds.
Tip 4: Just Enough Flour
Gnocchi dough is essentially 4 things: eggs, flour, salt, potato. You can replace eggs with water or silken tofu, but the texture won't be the same. Ideally, you want a dough that just comes together with the minimum amount of flour. Don't worry. I've already tested this for you, so you can rely on the recipe measurements.
Tip 5: Don't Over Knead
We're in the final stretch, and you're ready to form your dough. Feel free to really get in there with your hands to press everything together into a uniform dough. This is not like kneading pizza dough, where we want to develop gluten strands. In gnocchi making, we don't need to work the dough.
There you have my top 5 best tips for making perfect gnocchi every single time. With a little time, you can use the most affordable ingredients to make a gourmet dinner right at home. Gnocchi can be dusted with a bit of flour and stored in the freezer for months.
When you're ready, drop a few gnocchi at a time into simmering water. Within minutes, they will float to the top and you can serve them with your favorite sauce. Gnocchi can also be pan seared in a skillet with butter and fresh herbs.
---
Tools You Need
a knife or dough scraper (this one is cool because it has a measuring guide on it)
ricer or food mill
---
I hope you give this gnocchi recipe a try because it's well seasoned and well tested to give you success right out the gate. Be sure to watch the video to see how to roll and form the little pillows (aren't they just the cutest?).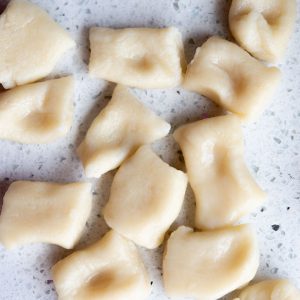 Ricotta Gnocchi
An easy ricotta gnocchi recipe (plus video) that can be frozen or adapted to be gluten free. It's entirely possible to make homemade gnocchi with a few basic ingredients. Rolling and forming the little dumplings is fun and takes 20 minutes. Gnocchi can be frozen and reheated for strategic weeknight dinners.
Print
Pin
Rate
Ingredients
3

large

Russet potatoes

(starchy Idaho or similar)

1

tbsp

kosher salt

plus more for baking

1

large

egg

3

tbsp

ricotta

1 1/2

cups

all-purpose flour

plus more for dusting
Instructions
Preheat the oven to 375°F. Wash potatoes to remove any dirt. Set potatoes on top of a handful of kosher salt on a baking sheet. Pierce each potato a few times with a sharp pairing knife. Bake until very tender, 1 hour and allow to steam on the hot tray for about 30 minutes.

Cut the potatoes in half lengthwise and spoon out the flesh. Process the potato using a ricer. Place a bit at a time into the ricer bowl and squeeze down on the handle. Do this over a bowl to collect fluffy mashed potatoes.

Make a well in the center to nestle the remaining ingredients. Use your hands to mix and press into a uniform dough. Do not knead it too much.

Dust your counter with flour and break off a small piece of dough. Use 2 hands to roll the dough into a long log approximately 1" thick. If it gets too long, simply break it in half for a more manageable size.

Cut the logs into 1.25" long dumplings using a bench scraper or knife. Press down onto the pieces with your finger to form the signature pillow look. Place a few gnocchi at a time into a pot of simmering (salted) water. Cook for about 4 minutes. They will sink at first, then float for a bit, remove and serve with sauce or pan sear in butter.
Notes
How to Freeze Gnocchi:
Dust the shaped gnocchi with flour to prevent it from sticking. Place in a sealed bag and freeze for up to 3 months. Remove frozen gnocchi. If they are stuck together, use your hands to break them apart. Simmer a few at a time directly from their frozen state until cooked through – 3-5 minutes.
Gluten Free Variation:
You can easily make delicious gluten free gnocchi that's every bit as good as this recipe. To make this recipe gluten free, substitute superfine white rice flour for all-purpose flour.
Nutrition
Calories:
186
kcal
|
Carbohydrates:
37
g
|
Protein:
6
g
|
Fat:
2
g
|
Saturated Fat:
1
g
|
Cholesterol:
29
mg
|
Sodium:
894
mg
|
Potassium:
609
mg
|
Fiber:
2
g
|
Sugar:
1
g
|
Vitamin A:
63
IU
|
Vitamin C:
8
mg
|
Calcium:
36
mg
|
Iron:
2
mg
Some of the links on this page are affiliate links, which may pay me a small commission for my referral at no extra cost to you!
Tomato Gnocchi Variation
Add 2 Tablespoons tomato paste to the dough for a delicious pink tomato variation. When it comes to adding flavors or fresh herbs, the sky is the limit!