When you're 23 and move across the country to live in New York City, you're utterly unprepared for the suffering that makes you adapt and eventually change. But you especially don't know that by and by, you become capable of thriving in chaos. Because after 5 years of surviving NYC, you are a New Yorker. And like every New Yorker who ever lived, you begin to eat bagels. All. The. Time.
I sure started my life in New York feeling indifferent to bagels, but I lived there for 8 years. So, I got on board.
The Story of Mini Breakfast Pizza Bagels
It all started with scarcity. Like I said, I didn't even like bagels. But when I try to buy something, and it's gone, the value in my mind goes up. I maybe walked 30 steps from my front door to the corner grocery shop for fresh bagels.
I loved that dingy place, because nothing about it made any sense. They'd completely sell out of bagels by 11am. And if you wanted an everything bagel after 9, then just forget about it.
Talk about annoying. And, can we guess what happened next? In sure competitive fashion, I began to get strategic about getting my bagels before the next guy. 23-year-old me had strict standards about routines like showering in the morning, but 25-year-old me was busy adapting — like leaving the house in pajamas to buy bagels. Then, I'm 26, standing in front of Jose (my friendly bagel guy) volunteering to help him make the bagels.
Jose told me that if I wanted to assist him at 3 am on a Saturday, he would show me the entire process from start to finish. Standing in that bagel shop at 3 o'clock in the friggin' morning, was a defining moment for me as a person who started out not too crazy about bagels.
Because, you can't make 1000 bagels in a gigantic rotisserie oven and not become obsessed with bagels for the rest of your life.
Imagine dumping a sheet pan full of bagel dough into a 4-foot tall cauldron of boiling water. Then imagine holding a spoon as large as your torso because you have to stir the bagels.
Ignoring the wafts of steam hitting you in the face, you have to move quicker than you've ever moved in your life at 3 am because your job is to transfer the bagels by the giant spoonful down a slick metal slide. Jose usually does this all by himself! He's acting like you're too slow, and manages to rinse the bagels faster then you can blink. And he's plunging soft, hot dough into spices.
Here's where things get really interesting. Jose loads the bagels four at a time onto planks of wood wrapped in soaking wet cloth. This technique for steam baking the bagels was pure magic.
Actually, it was seeing this process that inspired me to spritz my pizza dough with water. When you spray the bottom and top of a pizza dough, you get a very similar shiny, chewy texture to a bagel.
Just like Jose taught me, I add the spices to the wet dough and steam bake them in the oven. The results are incredible, and I would be so proud to show Jose these mini breakfast bagel pizzas today.
Best of all, they are easy to make. You can use my recipe for homemade pizza dough or just use fresh dough from the store. I've included some options for cooking an egg on top in the recipe card because one of my favorite New York breakfasts was an egg sandwich on an everything bagel.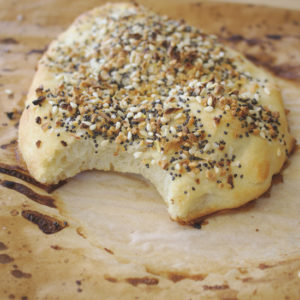 Mini Breakfast Bagel Pizzas
I was shown the entire process of making bagels by a New York bagel master. This recipe uses bagel-making wisdom (i.e. steam baking) to create a remarkably similar texture. We use pizza dough and spray it with water, add an everything spice blend, and create incredible homemade pizza bagels for breakfast.

Print
Pin
Rate
Ingredients
Everything Bagel Spice Blend
2

tsp

kosher salt

1

T

poppy seeds

1

T

minced onion

1

T

minced garlic

1

T

sesame seeds
For the Breakfast Pizza Bagels
1/4

tsp

baking soda

optional

6

small

eggs

1

handful

spinach or arugula
Instructions
Pizza Dough Prep
Preheat oven to 500°F. Take pizza dough from homemade pizza dough recipe and divide in half; this will be enough for 6 mini bagel pizzas. Place dough in a bowl with a small amount of olive oil and cover. Allow to rest for 30 minutes before forming into mini pizzas.

Everything Bagel Blend
Combine dry bagel spices (salt, poppy seeds, minced onion, garlic, and sesame seeds) in a ramekin.

Make Pizza Bagels
Fill a spray bottle with water and add baking soda. Shake.


Cut 6 pieces of parchment paper and use spray bottle to spritz with water. Spread pizza dough on top and spray the top of each dough. Work with 2 pizzas at a time, sprinkle bagel spice blend on top.


Add egg and use spatula to transfer to the pizza stone. Bake for 8-10 minutes. Remove and top with spinach or arugula.

Notes
To Freeze: Cook the pizzas in advance. Portion into freezer bags for a quick, yummy breakfast.
How Do You Like Your Eggs?
sunny side up – cook the dough for 3 minutes, add the egg and cook for an additional 6 minutes
over-medium egg – cook the dough for 2 minutes, then remove from the oven and top with the egg. Bake for an additional 8 minutes.
cooked yolk – crack the egg over the raw dough and bake for 10-11 minutes
Nutrition
Calories:
74
kcal
|
Carbohydrates:
1
g
|
Protein:
3
g
|
Fat:
6
g
|
Saturated Fat:
1
g
|
Cholesterol:
195
mg
|
Sodium:
836
mg
|
Potassium:
37
mg
|
Vitamin A:
260
IU
|
Calcium:
59
mg
|
Iron:
0.8
mg
Thank you for being here! Did you make this recipe? Click on the star rating or leave a comment below. I'd love to hear how you got on. Connect with me @thefrayedapron on Instagram or Pinterest.
Similar Recipes: