Grilled octopus is one of my go-to appetizers because it's easy, delicious, and never fails to impress. People fight over this dish, and yet it couldn't be simpler to make.
Octopus is an incredibly nutritious source of protein. Actually, I can't think of a meat that's higher in protein than octopus at 68 grams per portion! Not to mention it has a really meaty texture for seafood, making it feel like more of a substantial meal.
More Recipes
This Greek-inspired marinade features the classic combination of lemon, herbs, and olive oil. Since octopus can have a tough texture, the Greek fishermen beat the octopus on the rocks 40 times to tenderize it. Today we will be tenderizing the octopuses by simmering in wine vinegar and wine.
Once the octopus is tender, you want to marinade it so it doesn't stick to the grill and has a nice flavor to compliment the char.
How long do you boil octopus?
First of all, we are gently simmering the octopus (not boiling) for as long as it takes to be knife-tender. For baby octopus, I recommend 30 minutes but I've boiled large octopus for 1 1/2 hours. The good news is that there's little risk of over-cooking octopus! Keep an eye on the liquid level in the pot and add more water if it starts to look dry.
How to Clean an Octopus
It's very easy to clean an octopus. Look at the bottom of the octopus to located the mouth hole while simultaneously pushing up on the head to expose a hard beak. You can easily grab it and remove it with your fingers. It may come out in 2 pieces. Alternatively, use a sharp knife to draw a slit to scrape it out.
Your octopus likely has the eyes and head hollowed out already. If so, simply rinse the octopus and place directly into a pot that fits it.
How to Tenderize Octopus for Grilling – Step by Step
For baby octopus, simmer gently on low heat for 30 minutes (or up to 90 minutes for a large octopus) in the wine-vinegar mixture. Meanwhile, whisk the lemon-herb marinade in a bowl (photos 1 & 2).
Use tongs to lift the octopus out of the pot and roll gently in the marinade to coat (photos 3 & 4). Let the octopus sit in the marinade while you preheat and oil the grill.
Assemble the octopus by slicing and serving on a platter with extra marinade. Garnish with lemon wedges.
Serving Suggestions
Since octopus loses a lot of volume during cooking, expect that the finished dish will look quite a bit less than the original quantity. Aim for 1 small octopus as a light appetizer or meze for 2 people to share. As a light dinner, serve at 1-2 small octopuses per person.
Grilling Octopus Tips
Set the temperature of your grill to medium-high. To prevent sticking, dip a cloth in oil; use tongs to brush that oil on the grill grates.
Set the octopus directly on the grill and if you see a flare up, that may just be from the marinade dripping down. If the flame doesn't die within seconds, you may need to lower the heat.
Allow each side of the octopus to make contact with the grates for 2-3 minutes before turning. Cook until you see some char marks.
Don't allow the octopus to catch fire or there will be a slightly acrid flavor – fire can be minimized by quickly rotating the octopus.
If you are grilling a large octopus, you may cut it into smaller pieces for easier, faster grilling.
More Seafood Recipes You Might Like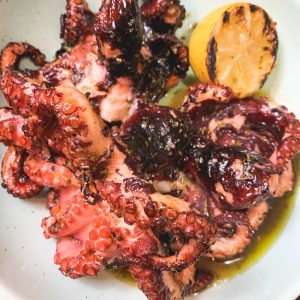 Easy Grilled Octopus
This grilled octopus is tender and flavorful after a short simmer to tenderize it followed by a Greek marinade of lemon, olive oil, and oregano. Serve as an appetizer or meze. Recipe is gluten free and paleo.
Print
Pin
Rate
Ingredients
For the Octopus
6-8

pounds

octopus

1 large or 3-6 small

1/2

cup

white wine

dry

1/2

cup

red wine vinegar

or champagne vinegar

1

onion

peeled and cut in half

2

bay leaves

6

peppercorns

1/4

cup

olive oil

extra virgin
Greek Marinade
1/2

cup

olive oil

extra virgin

1/4

cup

lemon juice

from 2-3 lemons

1/4

cup

red wine vinegar

2

tsp

dried oregano

1

tsp

sea salt

1/2

tsp

freshly ground black pepper
Instructions
Rinse the octopus under cold running water and remove the beak. Place directly in a pot that will fit the octopus. Add the wine, vinegar, onion, bay leaf, peppercorns, and olive oil. Cover and simmer over low heat for 30-90 minutes until the octopus is knife-tender. Keep checking in case you need to add water to the pot.

Whisk the marinade ingredients in a medium bowl. Add the octopus to the marinade bowl and gently roll to coat. Preheat the grill.

Set the grill to medium-high heat and coat the grates with oil. Set the octopus whole (if small) or into large serving pieces directly onto the grates. Let the outside brown for 2-3 minutes per side. Rotate to develop a char then place onto a platter with extra marinade. Garnish with lemon wedges.
Nutrition
Calories:
645
kcal
|
Carbohydrates:
14
g
|
Protein:
68
g
|
Fat:
32
g
|
Saturated Fat:
5
g
|
Cholesterol:
218
mg
|
Sodium:
1436
mg
|
Potassium:
1655
mg
|
Fiber:
1
g
|
Sugar:
1
g
|
Vitamin A:
692
IU
|
Vitamin C:
28
mg
|
Calcium:
257
mg
|
Iron:
25
mg
Some of the links on this page are affiliate links, which may pay me a small commission for my referral at no extra cost to you!