I'm going to tell you exactly how to dominate fettuccine alfredo with seafood, because when it comes to perfect shrimp pasta, it's all about timing.
Why This Recipe Works
The fettuccine noodles won't stick or dry out.
Flavor layering results in every ingredient being seasoned all the way through.
Clean, sweet, and perfectly plump shrimp that aren't over-cooked.
A rich, flavorful alfredo sauce with a velvety texture that's ready as soon as the pasta is ready.
Cayenne pepper is used to enhance and lift the delicate flavor of shrimp, without adding too much heat.
How to Make Really Flavorful Shrimp Fettuccine Alfredo
For best results, start the pasta and simultaneously make the alfredo so that neither has to wait for the other. While the pasta water comes to a boil, you can prepare the shrimp.
More on timing everything here with process shots…
FAQ
Where do most shrimp come from? Most shrimp are farmed in warm water off the coast of tropical and sub-tropical regions around the world. In the US, 90% of shrimp consumption comes from farmed sources. Shrimp labeled "domestic" is wild caught off the coast of the US and is a sustainable source of seafood (check NOAA for current updates by shrimp type).
What is the difference between prawns and shrimp? Pound per pound, prawns and shrimp are often used interchangeably in recipes for their similarities in taste, texture, and cook time. In general, shrimp are smaller than prawns (with a few exceptions). Shrimp live in salt water; prawns live in fresh or brackish water. Both have external skeletons but prawns have claws on 3 pairs of legs, whereas shrimp have 2 pairs of claws.
Which vein do you remove and why? The sand vein is on the shrimp's back and is often removed. I like to use kitchen shears to cut a small slit along the middle of the back to access the black intestines, and then lift the digestive tract out. Keep paper towels nearby to wipe.
How to Devein Shrimp Shell On
Make an incision along the back with kitchen shears.
Remove the exoskeleton and wipe away the digestive tract using a paper towel.
Remove the tail for a shrimp fettuccine that's easy to eat.
Better Fettuccine Noodles
It's important to salt the water pasta cooks in so that the noodles get seasoned all the way through. How much salt do you add? Pasta water should be salty like a tear or seawater. You can grab a large handful of salt with no need to measure.
Pro Tip: Time the fettuccine so that you can lift the cooked pasta out of the boiling water with tongs and directly add to the alfredo sauce. The reason for this is to get some of that pasta water into the alfredo and to prevent the noodles from getting dry or sticking together in a colander.
Flavor Layering – Pan Seared Shrimp with Cayenne
Prep-work: I recommend chopping some parsley as you wait for your pot of water to come to a boil.
Next up, the fettuccine noodles go into that pot of boiling (salted) water. Now, you want to melt the stick of butter.
The name of the game is flavor layering! Warm the butter and infuse the fat with salt, pepper, and cayenne. Add the shrimp and cook until slightly pink – this happens very fast (which is why we are timing the alfredo in tandem with the pasta).
Next up, shredded Parmesan cheese plus heavy cream.
Best Timing Tip: The cream sauce is ready as soon as it thickens a bit. You want to add the noodles asap or else the sauce will need to be thinned out with pasta water.
Drop the cooked fettuccine noodles directly into the pan using tongs.
Gently swirl the fettuccine to coat the noodles. Cream sauce thickens quickly but can be thinned out a bit with hot pasta water. If you can, try to avoid too much of this as it dilutes the flavor.
Garnish with chopped parsley and a sprinkle of cayenne pepper.
Storing Fettuccine Alfredo
Store leftovers with a bit of extra pasta water in a sealed container for up to 2 days. The pasta water will help the pasta reheat better the next day. I recommend 45 seconds in the microwave – swirl around with a fork – and another 45 seconds (or longer).
Seafood Pasta Variations
You could try adding any virtually any seafood to this pasta dish or try a combination for a seafood medley. Here are a few ideas:
clams
mussels
prawns
scallops
More Recipes Featuring Seafood
saffron risotto with clams and andouille sausage
halibut foil pack with white wine sauce
smoked salmon cream sauce with gnocchi
Did you make this recipe? Leave a star rating and comment below!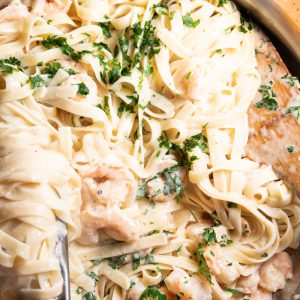 Fettuccine Alfredo with Shrimp
This recipe maximizes the potential of shrimp by searing the shrimp with butter to build a more flavorful alfredo sauce. Cayenne does not make the dish particularly spicy but is there to lift and enhance the savory tastes. If you start the pasta noodles first and then begin the alfredo, you can serve the fettuccine with perfectly plump shrimp in a velvety smooth sauce.
Print
Pin
Rate
Ingredients
1

pound

shrimp

cleaned, tails removed

1

pound

fettuccine pasta

1

stick

butter

8 Tablespoons

1/4

tsp

cayenne powder

1/2

tsp

salt

1/4

tsp

freshly ground black pepper

1

cup

shredded Parmesan cheese

1

cup

heavy cream

2

oz

fresh parsley

chopped
Instructions
Fill a large pot with water and add a handful of salt. Bring to a boil over high heat while cleaning the shrimp (remove exoskeleton, sand vein on the back of the shrimp, and tail).

Add the pasta and use tongs to swirl the noodles around a bit to prevent sticking.

Melt the butter over medium heat in a large pan. Add the cayenne powder, salt, and pepper. Add the shrimp and stir to coat. Cook for 2 minutes.

Add the Parmesan cheese and heavy cream. Warm just until slightly thickened. Try to time the pasta so that you can add the cooked noodles directly to the alfredo sauce. Lift the pasta with tongs so the pasta water drips into the sauce. Swirl to coat and serve right away with a sprinkle of parsley and cayenne.
Notes
Seafood Pasta Variations:
Try prawns, mussels, clams, scallops, squid, or a medley of fresh seafood.
Gluten Free Fettuccine Alfredo:
To make this recipe gluten free, look for any rice noodle labeled gluten free and follow the directions. Usually, gluten free pasta cooks slightly quicker than regular wheat noodles.
Cayenne
Even if you are sensitive to heat, you can tolerate 1/4 teaspoon of cayenne. It really is there to lift the heavy, savory flavors so the whole dish really shines. I even like to add a dash as a garnish for a little color and extra heat.
Nutrition
Calories:
713
kcal
|
Carbohydrates:
56
g
|
Protein:
34
g
|
Fat:
39
g
|
Saturated Fat:
23
g
|
Cholesterol:
364
mg
|
Sodium:
1207
mg
|
Potassium:
348
mg
|
Fiber:
3
g
|
Sugar:
2
g
|
Vitamin A:
2041
IU
|
Vitamin C:
16
mg
|
Calcium:
364
mg
|
Iron:
4
mg
Some of the links on this page are affiliate links, which may pay me a small commission for my referral at no extra cost to you!