I somehow made it to my late 20s before trying duck confit, which is amazing considering how sublimely satisfying it is. When I think of duck confit, I imagine ultra tender meat with rich fat that melts in your mouth.
What is duck confit?
It's really tender duck meat that cooks slowly on the bone within its own fat. You serve duck confit by shredding the meat, but I served the legs whole.
Even if you think it's scary, you can disjoint a whole duck with a sharp knife and a can-do attitude. You will be rewarded with an inspired dinner for 2 (plus leftovers). While I serve mine with a tangy plum sauce, you could simply shred the duck over salads. Confit is also fabulous spread onto toast with capers and pickled onion. In the winter, I might serve it with these herb infused mashed potatoes.
Cooked low and slow amidst its own rendered fat, the flavor has nowhere to go but inward. So, if you want to expand into duck territory, I'll demonstrate how to pull this gourmet looking meal off with only 4 ingredients!
How to Confit Duck
You can slow-roast duck legs, wings, skin, fat, and neck in your oven at 300°F for 2 1/2 hours, or until tender. If you own a crock pot, you can cook the duck on the low setting for 5 hours.
Recipe Snapshot
Star Ingredient: duck
Flavor Affinities: PLUMS + DUCK + FENNEL
Function: cooling
Tastes: sweet, savory, tangy
Textures: meltingly tender meat, smooth sauce
Ease: moderate
Method: slow-roasting or slow cooker
Wisdom: Salt the duck before cooking and break it down however you can. Since it gets served shredded anyway, the cuts don't need to be perfect looking.
Very Easy Plum Sauce
Shockingly, this plum sauce is 1 ingredient. Plums are juicy enough on their own to provide an incredible amount of flavor and texture when blended. The vibrant, acidic flavor lightens the savoriness of the duck and cuts the fat of the dish with a lighter component.
Let's Plate the Plum Sauce!
Ever try using a squeeze bottle for storing dressings or plating sauces? It's fun to paint on the plate, especially when the colors are so saturated. Check out how to use a spoon to draw a swoosh. Try fanning out sliced plums and don't forget the sprig of fennel fronds for a little greenery.
I hope you try this one. It's really an amazing dish. Right below is a video demonstration of me butcher a whole duck to give you a sense of it. I am by no means an expert at butchering duck, but it's just like breaking down a chicken.
Best Tip: Use a sharp knife. Feel around for the joints. Cut between the joints or bread them with your hands to make it easier. Save all skin, fat, meat, and bones for stock, cooking fat, and (of course) duck confit.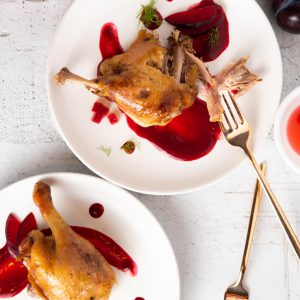 Crockpot Duck Confit with Plum Sauce
I learned how to make duck confit in a fine dining restaurant that specialized in French cooking. Duck requires very little to bring out the savory and flavorful meat, which is why this recipe requires 4 ingredients. Shred and serve with sweet and tangy plum sauce for a romantic dinner for two. Reserve leftover meat inside the fat to keep it moist.
Print
Pin
Rate
Ingredients
1

whole

duck

broken down into parts

1

tsp

salt

4

ripe plums

fennel fronds

for garnish
Instructions
Add the duck skin, fat, neck bone, thighs, and wings to the crock pot (add the breasts or reserve them for a different dish). Season with salt. Set the temperature to low and cook for 5 hours.

Remove the stems from the plums and cut them in half to remove the seed. Blend the flesh (skin on) until very smooth. Strain the sauce.

Serve the duck confit meat with plum sauce and garnish with fennel fronds. You may also add slices of plum to the plate.
Notes
Since duck breast is often enjoyed medium-rare, you can save the breast for searing or use it in this recipe.
Confit duck uses the skin and fat to keep the meat moist as it renders. Store left-over meat inside the fat and remove the meat from the bone. Reserve the duck fat to cook with. It's an excellent, flavorful fat (similar to bacon fat).
Nutrition
Calories:
370
kcal
|
Carbohydrates:
8
g
|
Protein:
42
g
|
Fat:
18
g
|
Saturated Fat:
5
g
|
Cholesterol:
178
mg
|
Sodium:
754
mg
|
Potassium:
104
mg
|
Fiber:
1
g
|
Sugar:
7
g
|
Vitamin A:
230
IU
|
Vitamin C:
8.6
mg
|
Calcium:
20
mg
|
Iron:
3.4
mg
Some of the links on this page are affiliate links, which may pay me a small commission for my referral at no extra cost to you!