Star Ingredient: chicken
Flavor Affinities: CHICKEN + TOMATO + GARLIC + PARMESAN
Function: warming
Tastes: salty, sour, sweet, savory (nutty)
Textures: chewy, saucy
Ease: easy
Method: pan-fry with broil finish
Wisdom: The secret to perfect chicken Parmesan is in a well-seasoned breadcrumb/flour mixture. Those flavors cling to the chicken as it gets crispy. Broiled mozarella and Parmesan add another savory dimension – well worth the effort.
I've only every had mediocre chicken Parmesan so when I set out to create this classic dish, I knew my job was to look for every opportunity to improve it. You're going to love how dynamic and flavorful this chicken parm is, and it's all cooked in a skillet!
This recipe is EASY, and yet, people revere this classic Italian dinner in a way that suggests a more complicated production. Like with Dutch Oven Meatballs, there are "acts of love" with Italian cooking that make all the difference in the world. So what does this mean?
As I cook Italian food, I envision myself as a saucier whose job is to build the most flavorful backdrop imaginable. I try to add pinch after pinch of salt at every stage of the cooking process. That way, the first bite is exciting and shows that you care.
How to Make Easy Chicken Parmesan in a Skillet
Start by pounding the chicken breast on both sides to tenderize the meat (pinch of salt and pepper). Next, add it to an egg wash bath and then dredge it in seasoned flour. Follow the flour with breadcrumbs or for an extra thick crust, dip it in the eggs again before adding the breadcrumb layer.
Breadcrumb Tip
You can make your own breadcrumbs in a food processor, as you should because store bought breadcrumbs are icky. Use day old Italian bread (white bakery loaf). Tear off chunks of bread and grind until very fine. The finer the crumbs, the easier they stick.
Once your chicken is dredged, heat a cast iron skillet or oven proof skillet over medium heat. Pan fry the chicken to develop a deep golden crust. A meat thermometer is the best way to check that the chicken is done – aim for an internal temperature of 155-160°F because you will broil it, and it will continue to cook to 165°F.
Right before transferring the skillet to the oven, add your favorite high quality marinara sauce along with (you guessed it) a pinch of salt and red pepper flakes. Add a thick slice of fresh mozzarella cheese along with some grated Parmesan. Broil until the cheese bubbles and browns a bit. Serve hot over al dente spaghetti with even more fresh Parmesan.
For an element of freshness, don't forget a sprig of basil along with some freshly ground black pepper. Then, sit back, relax and feast on all the compliments your about to receive:)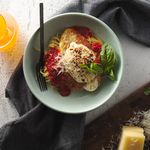 Chicken Parmesan
Chicken parmesan made in a single skillet is an easy and sure-fire way to impress your family. A well-seasoned coating of breadcrumbs/flour is the best way to achieve flavorful chicken that tastes better than any restaurant version you've ever tried.
Print
Pin
Rate
Ingredients
4

4-oz

chicken breast cutlets

1/4

cup

flour

whole wheat or all-purpose

1

whole

egg

lightly beaten

1/2

cup

plain breadcrumbs

1/2

tsp

freshly ground black pepper

1/2

tsp

garlic salt

1/2

tsp

dried oregano

1/2

tsp

kosher salt

plus more for seasoning

3

tbsp

olive oil

extra virgin

4

oz

mozzarella cheese

sliced

2

oz

Parmesan cheese

finely grated

8

oz

marinara sauce
Instructions
Prepare the chicken breast. Lay flat on a cutting board and look for any areas that are over 1/2-inch thick. Make a 45° cut through the thick part, cutting half-way through to open like a book. Pound gently on both sides to tenderize. Season front and back with salt and pepper.

Place flour, egg, and breadcrumbs in separate bowls.

Season the flour with black pepper, garlic salt, dried oregano, and salt. Stir to distribute.

Coat the chicken with egg then dip into the flour pressing firmly to coat both sides. Dip in the egg wash again and repeat, this time with breadcrumbs.

Warm a large cast iron skillet or oven-safe skillet over medium heat. Add olive oil then pan-fry the chicken breast until dark golden brown and crispy on both sides. Top with a slice of mozarella and a sprinkle of shaved parmesan.

Pour marinara sauce into the same pan with the chicken and cook several minutes to warm. Finish the chicken under the broiler (optional) to melt and caramelize the cheese layer. Serve hot with spaghetti and extra parmesan cheese.
Notes
Breading: This recipe has been tested with flour only, breadcrumbs only, and a combination of the two. There are slight differences, but I believe the crucial factor here is the seasoning. Therefore, you can make this recipe with whatever you have available with excellent results. If you want to make your own breadcrumbs, grind about 2 cups dried bread cubes in a food processor until very fine.
Marinara Sauce: A good marinara makes a huge difference. I highly recommend choosing your favorite marinara or arrabbiata (if you like it spicy) for top notch results. I like Paesana.
Seasoning Tips: At every stage of the cooking process, it's important to season with a pinch of salt. That way your seasoning gets into the food and brings out the best flavors. I salt the chicken, the flour, and the marinara. That way, when you take a bite, all the flavors move across your tongue. Parmesan is naturally salty, which is why I will finish the dish with a large pinch of Parmesan (rather than salt). At the very end, you could also tear some fresh basil over top.
Nutrition
Calories:
330
kcal
|
Carbohydrates:
20
g
|
Protein:
15
g
|
Fat:
21
g
|
Saturated Fat:
8
g
|
Cholesterol:
34
mg
|
Sodium:
1384
mg
|
Potassium:
249
mg
|
Fiber:
2
g
|
Sugar:
4
g
|
Vitamin A:
550
IU
|
Vitamin C:
4
mg
|
Calcium:
343
mg
|
Iron:
1.9
mg
Some of the links on this page are affiliate links, which may pay me a small commission for my referral at no extra cost to you!
Thank you for being here! Did you make this recipe? Click on the star rating or leave a comment below. I'd love to hear how you got on. Connect with me @thefrayedapron on Instagram or Pinterest.