These brownies are so dang good — they're that perfect combination of crunchy and moist. Before you know it, you're eating a brownie for breakfast and deciding whether or not your husband deserves the last one.
I mean, just look at those shiny brown squares! That's what Trouble looks like. Once you taste one, you need another. It's a need thing.
*For the record, I did give my darling husband the last brownie. I had to bite my tongue when the thought popped into my head: make him give you a bite!
I found a survey about preferences: cake, cookies, or brownies? Many go for the brownies (myself included). So, what's your dessert of choice?
Oh, and if you're looking for a lower calorie (and gluten free) alternative that still tastes good, try these brownie cookies (dark chocolate) or these peanut butter brownie cookies (my favorite).
---
Somehow it's relevant to mention that I used to eat a brownie a day as a kid. They were those brownies from Costco (not sure if they still have them anymore). My ritual was to heat them in the microwave for about 20 seconds because they were a tad cakey, and I just wanted them to be more…moist.
Fast forward to now, and my quest for a moist brownie ends with this recipe, which was slightly adapted from What's Gaby Cooking (thanks Gaby!).
In her recipe, she calls for espresso powder. While I love working with espresso powder, I couldn't find it anywhere and so I was unable to make her recipe to a T. I swapped in liquid espresso, knowing that the flavor wouldn't be as strong as Gaby's version and the results a bit different. Sharing in case this helps someone who needs a brownie fix and can't wait for their amazon delivery of espresso powder.

What Makes These Brownies Moist
If you are familiar with making fudge, you'll recognize the first technique in this recipe. You start by melting butter with sugar over the stove with cocoa. I've found that this makes for an extremely rich and moist brownie.
Now here's where things get interesting. We are just baking these for 30 minutes and letting them continue to cook a bit at room temperature. Then, we refrigerate them. I've found that this prevents that awful burnt, dry quality that some brownies have from being over-cooked.
Underneath the chocolate flavor, is a caramel flavor. That's because caramelized sugars develop during baking. We definitely want to preserve those flavors, not burn them. This brings me to my next point.
Some of the links on this page are affiliate links, which may pay me a small commission for my referral at no extra cost to you!
How to Bake the Best Brownies
Ingredients are important but when it comes to baking the best brownies, it's as simple as having good technique and the proper ratios of sugar to flour. Here are the take-aways:
Add a hint of espresso to bring out the best of the chocolate. Many people use espresso powder, but I use a Tablespoon of freshly brewed espresso using a Primula Stovetop Espresso Maker (also, strong coffee works too).
Use a combination of cocoa powder and semi-sweet chocolate chips or chunks. Your brownies will have that bakery quality and satisfyingly rich chocolate flavor.
High proportion of sugar to flour — you'll notice a chewy texture, reminiscent of caramel. That's because there's more than double the amount of sugar to flour, so the sugars actually caramelize in the oven. Many recipes use too much flour and you end up with a dense, crumbly brownie.
Salt! – I'd shout it from the rooftops because it's so simple, and yet so many chocolate dessert recipes don't tell you to salt. This recipe contains the proper amount of salt. Even better, I use Maldon (a flaky sea salt) because it doesn't fully dissolve, giving you a little salty surprise every other bite.
You'll definitely see some parallels in my advice about making these salted caramel chocolate tarts, where you finish the dessert by sprinkling flakes of salt over the top.
So there you have it! All my best tips for making the best batch of brownies every single time. Before I leave you to it, I just have one last point about the size of your brownie pan.
Pan Size Tips: For this recipe, use a pan that is 9 by 9-in if square or about a 8 by 12-in rectangle. Large variations in pan size will affect the cook time. For smaller pans, add an extra 2 minutes and for larger pans, subtract a couple minutes from the cook time.

More Brownie Inspiration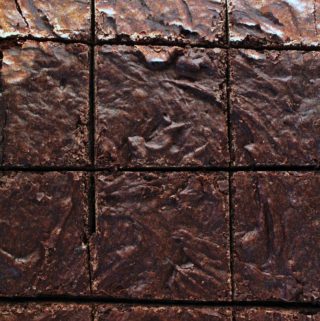 Fudge Brownies with Espresso
Decadent and rich fudge brownies that are a chocolate lover's dream. To make this recipe, you need cocoa powder and chocolate chips or chunks. Brewed espresso or strong coffee is recommended but not essential.

Print
Pin
Rate
Ingredients
finely ground coffee

10

Tbsp

unsalted butter

1 1/4

cups

granulated sugar

1

tbsp

espresso (strong coffee works too)

optional

3/4

cup

unsweetened cocoa powder

1/2

tsp

Maldon salt

2

tsp

vanilla extract

2

large

eggs

1/2

cup

all-purpose flour

1

cup

semi-sweet chocolate chunks or chips

I like Enjoy Life Mega Chunks
Instructions
Preheat the oven to 350°F (175°C). Line an 8 by 12-inch baking pan with parchment paper.


Brew fresh espresso or strong coffee (you only need 1 Tablespoon for this recipe).


In a medium saucepan, combine the butter, sugar, espresso, cocoa powder, and salt. Cook over medium heat, stirring, for 3 minutes, or until the butter is melted.


Remove from the heat and add the vanilla extract. Crack the eggs over the pot and stir to combine.


Stir in the flour and chocolate chunks/chips. Pour the batter into the prepared pan and bake for 30 minutes.


Remove even though the brownies have a slight wiggle. They will continue to cook as they cool. Once they reach room temperature, refrigerate for 1 hour or overnight before cutting.

Notes
Note: Even though these cook in 30 minutes in the oven, they continue to cook as they cool. This is where the magic happens with that moist and fudgy center. Wait until they firm up before cutting. I like to refrigerate these for at least an hour or overnight, then enjoy!
*recipe adapted from What's Gaby Cooking? (cookbook)
Nutrition
Calories:
294
kcal
|
Carbohydrates:
35
g
|
Protein:
3
g
|
Fat:
16
g
|
Saturated Fat:
10
g
|
Cholesterol:
57
mg
|
Sodium:
102
mg
|
Potassium:
175
mg
|
Fiber:
3
g
|
Sugar:
26
g
|
Vitamin A:
345
IU
|
Calcium:
23
mg
|
Iron:
2
mg
Thank you for being here! Did you make this recipe? Click on the star rating or leave a comment below. I'd love to hear how you got on. Connect with me @thefrayedapron on Instagram or Pinterest.