Now we're cooking.
Building on the basic blueprint of slow cooked beef, this barbacoa recipe invokes depth and flavor from a blend of chiles, garlic, and spices. One taste, and you will want to own this recipe forever (I know I do).
With sopping wet Mexican shredded beef as a starting off point, you can't go wrong with some tortillas, rice, shredded lettuce, cheese [you name it]…taco Tuesday will be epic (as will burrito whateverday).
What really gets me excited though is just how practical it feels to throw affordable, large hunks of meat into a machine, press a button, and see results.
You'll find some authentic Mexican ingredients that are the heart and soul of this dish:
There's tomatillos for a little tang, ancho chiles for some intensity, and, of course, onion and garlic for pungency. Put 'em all together, and you get irresistible barbacoa shredded beef.
Now, let's talk about the heat index.
I would not call this spicy in any way. You can certainly skip the chile entirely or go with ancho's milder cousin, the dried New Mexico chile pepper instead. For anyone out there looking to feel a spicy tingle, you could add 1 dried chipotle chile pepper when making the sauce (which would have the added benefit of making the dish a tad smokier, too).
How to Make Mexican Shredded Beef in the Slow Cooker (Crock-Pot)
Put the beef, spices, garlic and water in the slow cooker and set to Low.
Set the timer according to when you want to eat: 6 hours minimum plus 1-2 hours to warm the ranchero sauce and infuse the beef. It works best for me to set the timer for 8 hours and to shred then add the chile sauce 2 hours prior to serving.
Shred the beef.
Add the sauce. Continue cooking to marry those flavors (yeah!)
A Few Ideas For Serving Barbacoa:
bowl style: beef, rice, guacamole, cilantro, lettuce, sour cream
tacos: corn tortillas fried in oil, beef, lime, lettuce
tamales: masa dough formed around shredded beef and steamed
quesadillas: flour tortillas crisped in a skillet with cheese and the beef sandwiched in between
tortas (aka sandwiches): beef, tomato, onion, and toasted bread
When to Add the Ranchero Sauce
Again, I like to reserve adding the ranchero sauce towards the tail-end of the cook time – typically, right after I shred the meat. I do this because I believe it preserves the vibrancy of the tomatillos and still does its job by getting into the meat.
To make the sauce, you literally throw everything in the food processor or blender and pulse away…
Doubling this Recipe?
You can easily double the recipe without creating extra work for yourself. To do this, I recommend doubling every ingredient except for the salt. For the salt, use 3 teaspoons in the crockpot; taste before serving, and adjust the salt from there.
Modifying This Recipe for the Dutch Oven:
If you don't have a slow cooker or crockpot (as I call it), you can easily make this recipe in the Dutch oven (lid on) in the oven set at 275°F for 3 hours with 1 modification: cube the beef first into 2-inch pieces. Add the ranchero sauce, and return to the oven (lid on) for 30 minutes longer.
Better yet, if you barbecue this beef, you will totally get a gold star.
If using live fire, smoke, or coals, aim for between 250°F to 275°F; it's done when you can easily pull it apart with a fork, about 5 to 7 hours, depending on thickness, heat, etc. Once the meat is shredded, you can move the beef to a pot and warm it on the stove-top with the ranchero sauce.
More Mexican Recipes You Might Like:
Last but not least, you really want to try this savory, salty beef with this taco shop guacamole. It's creamy, tangy, with a touch of spicy.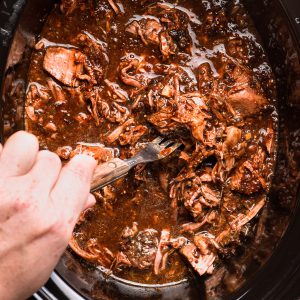 Barbacoa – Mexican Shredded Beef
This Mexican shredded beef swimming in ranchero chile sauce will remind you of the barbacoa from Chipotle. It's juicy, tender, and the sauce is mildly spicy and rich with flavor.
Print
Pin
Rate
Ingredients
Beef
2

pounds

chuck roast beef or top loin

2

bay leaves

6

garlic cloves

roughly chopped

½

teaspoon

dried oregano

½

teaspoon

ground cumin

½

teaspoon

dried thyme

2 ¼

teaspoons

salt

½

cup

water
Ranchero Sauce
3

dried

ancho chiles

wiped clean, stemmed, slit open, seeded, and deveined

1

garlic clove

roughly chopped

3

tomatillos

rinsed and halved

½

small

white onion

chopped (½ cup)

½

cup

hot water
Instructions
Slow Cook the Beef:
To the base of a crockpot/slow cooker, add the beef, bay leaves, garlic, oregano, cumin, thyme, and salt. Set to cook on low for 8 hours (Note: After 6 hours have passed, use a fork to shred the beef and add the ranchero sauce. You may serve the beef as soon as the sauce has warmed, either 7 or 8 hours.
Make the Ranchero Sauce:
In a food processor or blender, combine the chiles, garlic, tomatillos, onion, and water. Blend to form a thick, smooth sauce. Add to the shredded beef inside the crockpot. Use the remaining 1 to 2 hours to heat the ranchero sauce and infuse the beef with flavor. To serve, remove the bay leaves, then scoop the beef along with the juices and serve hot. Leftover barbacoa may be stored for up to 1 week in a sealed container in the refrigerator.
Notes
Note: Don't worry if you don't immediately love the flavor of the ranchero sauce by itself. It's purpose is to be intense, so that it works in concert with the beef and all those beefy juices.
Nutrition
Calories:
71
kcal
|
Carbohydrates:
15
g
|
Protein:
2
g
|
Fat:
1
g
|
Saturated Fat:
1
g
|
Sodium:
890
mg
|
Potassium:
393
mg
|
Fiber:
6
g
|
Sugar:
8
g
|
Vitamin A:
4655
IU
|
Vitamin C:
9
mg
|
Calcium:
16
mg
|
Iron:
1
mg
Some of the links on this page are affiliate links, which may pay me a small commission for my referral at no extra cost to you!