Subtly seasoned with fresh cilantro, salt, and pepper, these tender turkey burgers get a creamy boost from bright-tasting coleslaw made with kale instead of cabbage.
I simply cannot find the words to express the love-at-first-bite situation going on with this turkey burger. Question: Do you need a light meal that leaves you feeling energized midday? YES. That's the power of this turkey burger. Not to mention the way it commands your mouth's full attention. Thank you jalapeno sauce.
Let's talk more about the sauce for these burgers.
All you need is mayo, jalapeno, garlic and lemon (or lime). A spoon and a bowl and the flick of your wrist and your sauce is D.O.N.E.
We'll toss it with some shredded kale (see below), and also to hit those burgers with some MAJOR flavor, shower extra sauce on too. Because there's no such thing as too much jalapeno sauce, especially when it comes to turkey burgers.
1 bunch of kale yields enough slaw for 8 burgers, but if you want to cook 4 burgers, then you'll have plenty of kale slaw to eat on the side.
Build A Better Turkey Burger
To make great turkey burgers, start with good quality ground turkey — 85% protein to fat works best. Due to its lean and mild flavor, turkey begs for an equally bright and fat-rich sauce, so be generous with the citrusy, jalapeno flecked mayo. As you'll see with this recipe, turkey also benefits from simple seasoning, such as salt, pepper, and fresh cilantro.
Forming Turkey Patties: Use the size of your buns to guide the overall size of your patties. Keep in mind, they will shrink so aim for larger than what you want to end up with. Press into patties, each about 1″ thick.
Grilling Tips: Build a medium-hot fire in a charcoal grill or use a gas grill. Clean the grates and coat both the grates and the burgers with oil to prevent sticking. Cook until charred on both sides, about 5 minutes per side. Avoid moving the burgers, flipping just the once.
Toast the Buns: A toasted bun is better at absorbing juices and sauce and is less likely to get soggy. Throw the buns on the grill for 2 minutes.
Other Ways to Cook the Burgers: These are made on the grill because I'm a sucker for sunshine and a good char, but if you want the convenience of an indoor meal, who am I to stop you? Go ahead and sear those babies to your heart's content in a hot skillet with a drizzle of olive oil.
Jalapeno Sauce Alternatives: There is hardly any spiciness to my palate with this jalapeno sauce. If the mere suggestion of something spicy causes you to sweat, then you could swap cilantro for brightness. For an egg-free alternative, use the creaminess of an avocado in place of the mayo or a good guacamole.
When I'm craving a burger but need something that's not going to weigh me down, this is my kind of meal. Not only is it healthy, it's a balanced meal between a bun that's ready in less than 30 minutes.
I also love that you can blitz the sauce by hand thanks to the magic of garlic paste (see how below).
Channel Your Inner Chef: Fast Garlic Paste
Use a scraping motion at a 45° angle until the garlic forms a paste. Salt provides friction, helping to break up the garlic. Use garlic paste in sauces to infuse flavor quickly and easily.
P.S. Ok, for people who are grilling fanatics, this portable cast iron grill will make it easy to take grilling with you anywhere and they are worth a browse if you're moved to tears by durable kitchen tools (I am).
Did you devour this turkey burger? Rate the recipe and comment below!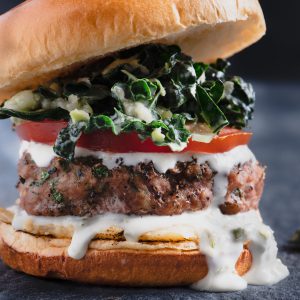 Turkey Burger with Jalapeno Sauce and Apple Kale Slaw
Simply seasoned ground turkey and a bright and creamy jalapeno slaw is all you need for a healthy, yet satisfying turkey burger. This recipe makes more slaw than you'll need for the burgers so use whatever you have leftover for a side salad or cook more turkey burgers – you can always store the leftovers.
Print
Pin
Rate
Ingredients
Jalapeno Sauce
1/2

cup

mayonnaise

or 1 smashed avocado

3

tbsp

fresh squeezed lemon or lime

juice

1

large

jalapeno

minced with seeds included

1

tsp

salt

1

clove

garlic

smashed into paste
Creamy Kale, Apple, and Celery Slaw
1

bunch

lacinato kale

de-stemmed, cut crosswise into thin strips

2

stalks

celery

ends trimmed, sliced very thinly

1

green apple

shredded

jalapeno sauce (from above)

only use enough to coat
Stuff for the Turkey Burgers
1

pound

ground turkey meat

for 4 (4-oz) patties*

1

tbsp

minced fresh cilantro

1/2

tsp

salt

1/2

tsp

ground black pepper

1/4

tsp

finely grated lemon (or lime) zest

4

oz

smoked gouda

4

brioche hamburger buns

4

slices

tomato
Instructions
Sauce:
Stir all the sauce ingredients in small bowl until mostly smooth.
Slaw:
Toss some of the sauce (not all) with the kale. You'll use the leftover sauce to top the burgers.
Turkey:
Season the turkey meat with the cilantro, salt, pepper, and citrus zest. Form into equal size patties approximately the size of your buns (they will shrink once cooked). Preheat the grill over high for at least 10 minutes. Use tongs to coat the grate with paper towel dipped in olive oil. Apply a drizzle of olive oil, salt, and pepper to the burgers. Add the burgers to the hot grill and sear over medium-high heat 5 minutes each side.
Assembly:
Top the hot burgers with thin slices of cheese and allow to rest for several minutes. For the most flavorful and easy-to-eat assembly, go in this order: bun, jalapeno sauce, burger, tomato, kale slaw, and extra sauce.
Notes
Quick Tips About Scaling This Recipe
There will be enough kale slaw for 8 burgers so you could use 2-3 pounds ground turkey and refrigerate extra burgers for meal prep. Note though that the kale slaw will break down, releasing moisture over time (best enjoyed same day or next day).
Gluten Free Burgers
You can enjoy these turkey burgers sans the bun or substitute your favorite gluten free bun.
Nutrition
Serving:
1
burger plus extra side coleslaw
|
Calories:
625
kcal
|
Carbohydrates:
36
g
|
Protein:
35
g
|
Fat:
40
g
|
Saturated Fat:
10
g
|
Cholesterol:
120
mg
|
Sodium:
1552
mg
|
Potassium:
847
mg
|
Fiber:
4
g
|
Sugar:
10
g
|
Vitamin A:
7341
IU
|
Vitamin C:
96
mg
|
Calcium:
330
mg
|
Iron:
4
mg
Some of the links on this page are affiliate links, which may pay me a small commission for my referral at no extra cost to you!