What's better than Thai curry? Thai curry made with accessible ingredients in under 20 minutes. Sauteed over high heat, the vegetables emerge outrageously fresh.
How can a one pan curry have all the merits of Thai cuisine with none of the traditional ingredients? It's a little trick I like to call the flavor approach to ethnic food, as opposed to the ingredient approach.
Obviously there are benefits to using authentic Thai ingredients like galangal, kaffir, and fish sauce as in these Thai Lettuce Wraps. But I live in the Arizona desert where tropical treasures are difficult to come by. So when I crave sweet, spicy, salty, savory, sour, and pungeant flavors that are so uniquely Thai, I get creative.
In order to achieve a Thai-like curry sauce, I've got aspects of every flavor element:
sambal olek chili paste (spicy) – thai bird chili
lime juice (sour) – tamarind or kaffir lime leaf
maple syrup (sweet) – palm sugar cream
onion, ginger, garlic (pungeant) – shallot, garlic, lemon grass, galangal
tamari and sun butter (savory and salty) – fish sauce/light soy sauce/oyster sauce and peanuts
After sampling curries from Bangkok to Chiang Mai, I can tell you that this curry sauce is every bit as delicious as some of the best massaman curries I tasted in Thailand. That's because it captures the spirit of Thai cuisine: fresh vegetables and balanced, bold flavors.
Some of the links on this page are affiliate links, which may pay me a small commission for my referral at no extra cost to you!
How to Make an Easy Thai Curry
Step 1
Make a creamy curry sauce in a high speed blender (or use an immersion blender). 2 minutes
Step 2
Chop a variety of fresh vegetables, roughly the same size for even cooking. Thai cooking is all about using a wide variety of fresh vegetables. Try a combination of any of the following: mushrooms, carrots, onions, eggplant, basil, bok choy, green beans, zucchini, and celery. 5 minutes
A hand-held julienne peeler is life changing if you regularly make stir-fry dishes. I was first introduced to this tool in a kitchen in Thailand where they used it for everything from curry to green papaya salad.
Step 3
Get your pan nice and hot. Heat a wok or skillet.
Add a neutral oil to the pan and when it shimmers, add a couple vegetable groups at a time, starting with the ones that take longest to cook. I usually start with onion and mushrooms, then add the white portion of bok choy, and finish with carrot and the green portion of bok choy. Toss the vegetables frequently to distribute the heat evenly. 5 minutes
Step 4
As soon as the vegetables are tender (not mushy) and crunchy, add a ladle of curry sauce give everything a good tossing. The second the sauce is warm, turn off the heat and taste. You can add more curry if you like, but this is a very concentrated curry sauce so a little goes a looooong way. 1 minute
Step 5
Serve the curry vegetables with aromatics like chopped cilantro or fresh lime.
How Can I Add Protein?
If you want to add chicken or shrimp to this curry, you can still cook everything in the same pan. Starting with step 2, cut the protein into bite-sized pieces. Then proceed with step 3 – add the meat to the hot pan first.
Sautee for a couple minutes, then begin to add the vegetables in groups. Cook the meat all the way through before adding the sauce.
How Do I Add Noodles to the Curry?
You can soak vermicelli noodles for 10 minutes in water, then add them during step 3 with the vegetables. The steam from the vegetables will cook them in a few minutes.
To use a more substantial noodle, like a wide rice noodle as in Pad Thai, boil the noodle separately, then add to the cooked vegetables. Give those noodles some love with a nice coating of rich curry sauce.
Don't have noodles? No problemo. This curry is delicious as-is or served over Thai steamed rice.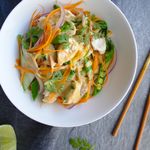 Thai Vegetable Curry
Whatever fresh vegetables you stir fry, in the end, it comes down to extraordinary curry sauce. This simple Thai curry dish is without pretension and comes together in 20 minutes in a single pan. This recipe features sunflower butter and coconut milk and is dairy free, gluten free, and vegan.

Print
Pin
Rate
Ingredients
Curry Sauce Ingredients
9

tbsp

sunflower butter

or peanut butter

1/4

cup

tamari

for allergies, look for gluten free

1/3

cup

fresh lime juice

from 2-3 limes

3

tbsp

fresh peeled ginger

4″ piece, sliced thinly

8

cloves

garlic

chopped

3/4

cup

coconut milk

from can

2

tbsp

maple syrup

1/4

cup

white miso

1

tbsp

Sambal chili paste

2

tsp

Kosher salt
Stir Fry Ingredients
1-2

tbsp

canola oil or coconut oil

2

pounds

chicken, shrimp, firm tofu

optional

2

pounds

vegetables

carrot, onion, zucchini, celery, snap peas, mushrooms

1

oz

cilantro

chopped
Instructions
Easy Thai Curry Sauce
Combine the Thai curry ingredients in a blender and blend until smooth and creamy.

Cook the Curry
Heat a wok or skillet over medium heat. Add the oil and warm until it begins to shimmer. If at any point, the oil smokes, lower the heat.


If using protein, add the protein to the oil first and cook for a few minutes. Add the vegetables in groups, starting with the ones that cook fastest. I like to start with sliced onion, followed by mushrooms, bok choy (white part first), snap peas, celery, and ending with zucchini, carrot, or the greens of the bok choy.


Cook the vegetables just until slightly tender, then ladle in a small amount of sauce. Start with about 1/4 cup, then add more if needed. This is a concentrated sauce, so a little goes far. Garnish with fresh cilantro and serve.

Notes
Curry Sauce Yield: 2 1/4 cup
Stir Fry Vegetables: Since the sauce is very concentrated with flavor, you can adjust the amount based on how many vegetables you stir fry. If cooking for 2, I like to stir fry just enough for one portion and save the sauce separately. Here are suggestions for vegetables:
zucchini
celery
snap peas
mushrooms (oyster, shiitake)
carrot
leeks, onion
bok choy
Protein: The nutrition is calculated based on a vegetarian dish, but you can absolutely add tofu, chicken, or shrimp. I love adding bite sized pieces of chicken tenders just before the vegetables.
Gluten Free: As long as you use a gluten free tamari, this recipe is naturally gluten free. You can even add rice noodles, and it will still be gluten free.
Nut Free: I use sun-butter (sunflower seed butter) in this recipe because I absolutely love the flavor. It's a product that I have on hand all the time, but if you need a substitution, go ahead and use peanut butter instead.
Storage: Store the curry sauce separate from the vegetables. I highly recommend cooking the stir-fry fresh and portioning out just enough sauce to lightly coat the portion size you need. While you can store leftovers in the fridge for a couple of days, I would not recommend freezing.
Nutrition
Calories:
391
kcal
|
Carbohydrates:
46
g
|
Protein:
10
g
|
Fat:
21
g
|
Saturated Fat:
6
g
|
Sodium:
1766
mg
|
Potassium:
787
mg
|
Fiber:
8
g
|
Sugar:
12
g
|
Vitamin A:
340
IU
|
Vitamin C:
33.8
mg
|
Calcium:
117
mg
|
Iron:
3.6
mg
Thank you for being here! Did you make this recipe? Click on the star rating or leave a comment below. I'd love to hear how you got on. Connect with me @thefrayedapron on Instagram or Pinterest.