Recipe Snapshot
Star Ingredient: strawberry
Flavor Affinities: LEMON + COCONUT
Function: cooling
Tastes: sweet and sour mostly with an undercurrent of savory
Textures: very creamy with crunchy, chewy garnish
Ease: easy – moderate
Method: frozen, fermented, blended
Wisdom: Adding young coconut meat lends a creaminess (plus fat) to a very sharp flavor profile. The savory element of walnut garnish, coconut water, and rejuvelac rounds out the loud flavors of strawberry, lemon, and lime. The result is a low and slow flavor that hits the entire tongue in an unexpected way.
The difference between this little gem and your typical smoothie is the difference between a Ford and a Ferrari; you won't ever choose it because it's practical, you'll choose it because it looks and tastes incredible.
It all started in 2007, when I used to drive from Phoenix to Santa Monica for the privilege of paying $18 for this smoothie at Planet Raw (called the Creamy Electrolyte Lemonade). After years of driving back and forth, I set out to make it myself. Like a dog with a bone, I tested and tweaked for 8 years until it finally became the best in show.
With strawberries at their peak right now, I could think of no better time to share this with you. You can buy as many fresh strawberries as you want knowing that you can always freeze them for smoothies.
Remove the leaves with a pairing knife. Then freeze them in gallon size plastic bags. You'll need about 3 cups to get a thick texture for this smoothie because there's no ice to dilute the flavor.
Like many exceptional recipes, this recipe contains an x-factor. It's called rejuvelac and it adds an underlying savory element that's indistinguishable but necessary to the balance of sweet and sour flavors. You won't be able to buy it, but it's easy enough to make with a bit of quinoa or wheat berries + water.
Rejuvelac is a slightly sour liquid you get from soaking rinsed quinoa or wheat berries over night. It ferments slightly so you end up with a shot of gut friendly probiotics. Don't stress this step at all. It's so easy!
How to Make the Creamiest Strawberry Lemonade Smoothie
Ingredients
sweet strawberries – green tops removed and frozen
1 young Thai coconut – cut open the coconut; watch how to open the coconut here. Keep the coconut water for the smoothie and remove the flesh with a spoon. Freeze the coconut meat.
rejuvelac – liquid only
lemon and lime juice – must be fresh squeezed
maple syrup – a delicious sweetener in this smoothie
salt – salt enhances the flavors and is a great source of electrolytes
superfood garnish – I like gogi berries, cacao nibs, shredded coconut, raw chopped walnuts, chia seeds, groates; basically, anything with a little texture and crunch adds interest.
Easy Rejuvelac
You don't even have to measure the quinoa or wheat berries. Just rinse them and add to a clean glass. Fill the glass with filtered water. Cover and leave out on the counter for 1-2 days. Strain out the liquid (this is the rejuvelac) and store it in the refrigerator.
Rejuvelac has a pleasant enough smell, so if it stinks at all, do not use it. You can definitely use those soaked grains. I love to cook with them because sprouted grains are really easy to digest and cook faster.
Blending Tips
I recommend adding all the smoothie ingredients at once — blending just 1 time so that you end up with a great, thick texture; there is such a thing as over-blending. Frozen strawberries and coconut meat are key because this smoothie uses zero ice.
Where you might run into trouble is with the coconut cream topping. Since some blender bases are large, they require a minimum amount of liquid to cover the blade. To get around this, you could add milk to cover fully or use a bullet blender for the coconut cream.
If you've made it this far, then I'm hoping you're up for the task. I believe you will have a reward waiting for you at the end. I'm here if you want to talk about the process. You can always comment, and I'll respond asap.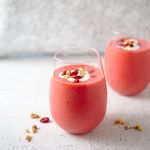 Strawberry Lemonade Smoothie
A creamy electrolyte lemonade with strawberries and coconut – the perfect end of spring smoothie.
Print
Pin
Rate
Ingredients
Smoothie Ingredients
1/2

cup

rejuvelac

1/2

cup

lemon juice

from 4 lemons

1/4

cup

lime juice

from 2 juicy limes

1/2

cup

coconut water

raw (from the young white coconut)

3

cups

frozen strawberries

1/4

cup

maple syrup

1

pinch

sea salt or himalayan pink salt

1/3

cup

frozen coconut flesh

from the young white coconut
Smoothie Toppings
1

tbsp

gogi berries

2

tbsp

finely chopped walnuts

1

tsp

cacao nibs

optional

coconut cream

from remaining blended coconut flesh and coconut water
Instructions
Blend all smoothie ingredients at high speed until completely smooth and creamy.

To make the topping, blend the remaining frozen coconut flesh with coconut water. Top the smoothie with a large spoonful of coconut cream and a pinch of gogi berries, walnuts, or anything you want.
Notes
Easy Rejuvelac –
Add about 1/4 cup rinsed quinoa or wheat berries to a clean jar. Fill the jar with filtered water and cover with plastic wrap and a rubber band. Leave overnight or up to 2 days at room temperature. Strain the sprouted grains and reserve the liquid (rejuvelac).
The rejuvelac will have a slightly sour, mostly pleasant taste and smell. If it has a foul odor, toss it out.
Young Coconut –
This recipe uses 1 white, Thai or young coconut (meat and water). Part of the meat is used in the smoothie to lend creaminess, and part is used to create a coconut cream garnish. The coconut water is used in the smoothie and for the garnish.
To open, shave the top with a sharp knife. Hold the coconut steady and hit with the bottom corner of your knife or cleaver. Make cuts in a circle to pop open the top. Pour out the water and scrape out the flesh with a spoon.
Nutrition
Calories:
166
kcal
|
Carbohydrates:
28
g
|
Protein:
2
g
|
Fat:
6
g
|
Saturated Fat:
3
g
|
Sodium:
46
mg
|
Potassium:
380
mg
|
Fiber:
4
g
|
Sugar:
20
g
|
Vitamin A:
15
IU
|
Vitamin C:
80.8
mg
|
Calcium:
51
mg
|
Iron:
0.8
mg
Some of the links on this page are affiliate links, which may pay me a small commission for my referral at no extra cost to you!