Gather round friends, because I'm sharing some juicy secrets today. Meet your new favorite sizzling salad supper. When grilled right, an aged rib-eye steak is the most delicious cut of beef you'll ever eat; it's incredibly flavorful, tender, juicy, and worth every penny.
If it's a new cut to you, trust me, it's definitely worth exploring. That said, you can use any cut you like because the marinade is where it's at. Perfectly grilling a steak is one of those skills that every home cook should master (don't worry, it's easy) in order to cook an impressive dinner for two or simply to treat yourself and/or your family to a special meal.
In this recipe, a simple-to-make spice blend gets used as both marinade and salad dressing. In fact, keeping a dressing as versatile as this middle-eastern blend on hand is an easy and awesome way to dress up any number of otherwise average meals throughout the week. It's especially delicious tossed on vegetables like bell pepper right before placing on the grill.
Some of the links on this page are affiliate links, which may pay me a small commission for my referral at no extra cost to you!
While my husband and I finished an entire salad and rib-eye, if you have any left-overs, just pop them in the fridge and enjoy them later. One final note on the bell peppers, if you get a charred skin, don't worry at all. Let them cool a bit, then use your hands to peel away all the burnt pieces. All that juicy flavor will be underneath.
Using the tasty drippings of the warm bell pepper, I toss them into the salad dressing before the greens. This helps the oil really absorb all those savory juices and gives the peppers a chance to cool before wilting the crisp greens.

How to Make A Perfect Steak Salad
Step 1
Make the rub out of spices and olive oil. Smear part of it on the steak to marinade and save the rest for the salad dressing.
Step 2
Cut up some colorful bell peppers into large grill-friendly slices. Coat them with some of the marinade and grill them until they're nice and black. You'll remove the charred pieces and use the juicy bell peppers to infuse the salad dressing.
Step 3
Remove the steak from the fridge 1-hour prior to grilling. Grill over medium-high heat for about 4 minutes per side. If you like a medium-rare steak, use an instant-read thermometer to test for doneness. Pull when the steak registers 120°F (it will climb another 5°F as it rests).
120°F for rare (carries over to 125°F for medium-rare)
125°F for medium-rare (carries over to medium)
130°F for medium (carries over to medium-well)
Step 4
Remember that spice-infused marinade left-over from step 1 (above)? Now we're going to add a squeeze of fresh lemon juice and whisk it into an amazing salad dressing. Season with some salt and pepper, some fire roasted bell peppers, and toss with crispy greens and baby tomatoes. Voila. Serve with sliced steak for a hearty, satisfying summer supper.
Tool Spotlight: A simple salad spinner is one of those essential kitchen tools that whisks away moisture from the salad greens. Dry lettuce leaves are key to getting your salad dressing to really adhere to the leaves.

*The Takeaways
For many meat lovers, a rib eye is the ultimate steak because of the marbling that runs through it. Grill it over a hot grill to develop that nice dark crust on the outside without overcooking the inside. You want to go to at least a medium-rare, because all that marbling means it's got too much fat to be served rare. I love a medium cooked rib-eye personally.
A salad with juicy, sweet bell peppers and popping fresh tomatoes is the perfect balance to the rich steak. All of the flavors of the spices dance around on your tongue for a flavorful indulgence. Even though we use a lot of middle eastern spices, this is not an overly-spiced salad. It just works. Make this recipe as-is if you can, and you'll see exactly what I mean.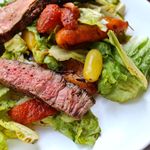 Grilled Steak Salad
When does a grilled steak become a meal? When you flank it with fire roasted bell peppers, perfectly ripe tomatoes, and fresh greens. This meaty main course salad has loads of full flavor thanks to a spice-based rub that gets used 3 ways (as marinade for the steak and bell peppers, then again in the salad dressing). This is my ultimate summer salad recipe.

Print
Pin
Rate
Ingredients
1

tbsp

ground cumin

1 1/2

tsp

paprika

1

tsp

ground ginger

1

tsp

ground coriander

1/2

tsp

freshly ground black pepper

1/4

tsp

chili powder

2

tbsp

olive oil

extra virgin

1

1-pound

aged boneless rib-eye steaks

about 1 1/2 inches thick

kosher salt and black pepper

2

whole

bell peppers

cut into large strips

1/2

lemon

1

head

green leaf lettuce

washed and torn

1/2

cup

grape or cherry tomatoes
Instructions
Whisk the spices (cumin, paprika, ginger, coriander, black pepper, and chili powder) in a bowl with the olive oil.


Remove 1 Tablespoon to use as a marinade for the steak. Reserve the remaining marinade for the salad. Rub the marinade all over both sides of the steak. Cover and chill for at least 1 hour or overnight.


Season rib-eye generously with salt and pepper and let stand at room temperature for 1 hour. Meanwhile, prepare the salad.


Heat a grill to medium-high and allow grates to get hot, 10 minutes. Toss the bell pepper slices with the marinade and grill until both sides blister. There will be a small amount of spice oil left in the bowl. Add the juice of 1/2 a lemon and a large pinch of salt and pepper. Whisk to form the salad dressing.


Grill steak about 4 minutes per side or until an instant-read thermometer reads 120°F for rare (steaks will carry over to 125°F, or medium-rare, as they rest). Transfer to a work surface; let stand for 10 minutes.


When the bell pepper are cool enough to handle, use your fingers to peel away any burnt pieces of skin. Toss the roasted bell pepper with the salad dressing. Next, add the lettuce, and tomatoes. Season with salt and pepper to taste. Serve with sliced steak.

Notes
How to Buy a Great Steak – Look for marbling (fat streaks) running throughout the meat. The best cuts for this salad will be rib-eye, T-bone, or Porterhouse. Each will be supremely tender once cooked. The more marbling, the better the flavor. These cuts are perfect for grilling and should be cooked the same way: seared over a hot fire and then finished over medium-low heat. Middle-Eastern Rub: so-named for the spices typical of Middle-Eastern cuisine, gets used 3x in this recipe…to marinade the steak, to marinade the bell pepper, and to create a flawless salad dressing. Apply the spice-based rub well in advance if you have the time. You can double the recipe as I do and keep one steak overnight, and eat the other one same-day. Since the rub contains zero salt, don't forget to generously season every inch of the steak with salt and pepper before grilling.
Nutrition
Calories:
687
kcal
|
Carbohydrates:
11
g
|
Protein:
50
g
|
Fat:
49
g
|
Saturated Fat:
15
g
|
Cholesterol:
127
mg
|
Sodium:
186
mg
|
Potassium:
1216
mg
|
Fiber:
4
g
|
Sugar:
2
g
|
Vitamin A:
14475
IU
|
Vitamin C:
34.2
mg
|
Calcium:
120
mg
|
Iron:
8.9
mg
Thank you for being here! Did you make this recipe? Click on the star rating or leave a comment below. I'd love to hear how you got on. Connect with me @thefrayedapron on Instagram or Pinterest.
Meal Compliments for Your Steak Salad
I've made this steak salad four times in the last week because I keep craving light but satisfying meals. The other night, I made it with these mangonada smoothies, and all the flavors worked really well together. Cheers!