I once ate 7 s'mores in 1 sitting because I was trying to discover the perfect marshmallow char to chocolate ratio. I felt absolutely ill that day, and yet…my loyalty to the dessert is as strong as ever. So if you make this dessert (as you definitely should), then pace yourself.
Isn't sitting in front of a campfire at night just the most gratifying experience on earth? The smell of smoke and the crackle pop of the fire puts my mind at ease. I've been desperate to get out of town to camp for weeks but work stuff keeps getting in the way. In lieu of an actual camping trip, how about a hot weather friendly s'more to make life a little bit out-of-town-like.
Recipe Snapshot
Star Ingredient: chocolate
Flavor Affinities: CHOCOLATE + VANILLA + COFFEE + SUGAR
Function: cooling
Tastes: bitter, sweet, savory
Textures: creamy, crunchy
Ease: moderate
Method: meringue
Wisdom: When you add a bit of coffee to chocolate mousse, it really intensifies the savory notes of the chocolate. By no means does the coffee in this recipe over-power the chocolate.
How to Make the Chocolate Mousse
To make the chocolate layer of this mousse, you need really good quality chocolate. This means you should use baker's chocolate bars or chips labeled semi-sweet (64% cacao) or bittersweet (70%). If using a chocolate bar, you want to really get in there with your chef's knife, chopping into bits. That way, the chocolate will melt evenly.
To get that velvety chocolate texture, you start by melting the chocolate in a heat safe bowl set over a pot of simmering water. This is called a double boiler, which just means, we are applying boiling water indirectly (via heat conduction) to the chocolate. With a little stirring, this happens in a matter of minutes.
Next up: Frothing the Yolks
Crack 3 eggs yolks into a bowl (reserving those whites for later). A little sugar, salt, and coffee go in next. Whisk everything together until you have some frothing action happening.
Combining the Chocolate with the Froth
Go ahead and stir that coffee foam with the melted chocolate until it's nice and smooth. Really stir so that you don't have streaks.
Meringue
Remember those egg whites? Those go into a stand mixer with a whisk attachment. When making meringue, always start with just the egg whites. Medium speed and agitation produces air bubbles and builds the structure of the proteins. Go until the egg whites reach soft peaks – where the peak of the cloud folds right over onto itself.
Now is the moment to add the sugar. Slowly. You just worked to achieve that height. Don't just plop it in there or you might deflate it. High speed on. Then, you go and go until the stiff peak stage (pictured below).
Chocolate Lightened with Meringue
The concept of a mousse is creamy, yet light and fluffy. To achieve the texture we're looking for, it's crucial that the meringue be folded (not stirred) into the chocolate. Here we go…
Whipped Cream
You're in the final stretch now. Back in that same stand mixing bowl with the whisk, pour heavy whipping cream. Go ahead and beat it on medium or high. The point here is to watch it. Look for fluffiness that's smooth. Go too far, and the whipped cream fat starts to separate a bit and then you get a terrible sort of butter.
Fold the Whipped Cream
Gently but thoroughly now, fold the whipped cream into the chocolate mousse. Portion into 6 or 8 individual cups. Cover with plastic wrap and refrigerate for 4 to 24 hours.
The Marshmallow Layer
This mousse is going to remind you of eating a s'more because of the flavor profiles. Yet, we aren't using marshmallows because they're too firm. Actually, vanilla infused meringue is remarkably similar to marshmallows when scorched and perfectly compliment the chocolate mousse beneath.
Combining the Layers for the Ultimate S'more Dessert
I vacillated a bit with whether to put the graham crackers on the bottom of the chocolate mousse. Not wanting a soggy graham cracker, I finally decided on this:
layer 1: chocolate mousse
layer 2: "marshmallow" meringue (scorch with a torch)
layer 3: graham cracker
When all else fails and you can't get out of town or enjoy a campfire, there's s'more mousse. Remarkably, this dessert is so light and rich at the same time, that I might, kinda, sorta, really, definitely love it more than a s'more…but never more than a s'more and a camp fire.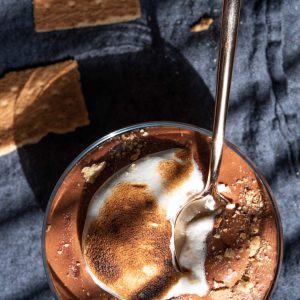 S'more Mousse
A s'mores dessert with a gourmet twist. Cold and creamy chocolate mousse layered with vanilla meringue and graham crackers makes for the perfect summer s'more. Instead of a campfire, a hand held culinary torch gives that fun toasted marshmallow touch. Recipe is gluten free if you use gluten free graham crackers.
Print
Pin
Rate
Equipment
Stand Mixer with Whisk

Culinary Butane Torch
Ingredients
Chocolate Sauce
6

oz

semisweet or bittersweet chocolate

chopped

3

tbsp

unsalted butter

2

tbsp

coffee
Yolk Froth
3

large

egg yolks

3

tbsp

coffee

or water

3

tbsp

granulated sugar
Meringue
3

large

egg whites

1/4

tsp

cream of tartar

recommended for foolproof structure

1/4

cup

granulated sugar

1/4

tsp

salt
Whipped Cream
1/2

cup

heavy whipping cream
Marshmallow Meringue
3

large

egg whites

1/4

tsp

cream of tartar

1/3

cup

granulated sugar

1

tsp

vanilla extract

3

graham crackers

for garnish
Instructions
Add 1" of water to a medium pot over medium heat. Set a metal (or glass) bowl on top to create a double broiler. Add chopped chocolate, butter, and coffee. Stir just until smooth and melted. Remove and allow to cool slightly.

Whisk egg yolks, coffee, and sugar in a medium bowl over the simmering water until thick and frothy. Stir into the chocolate sauce.

Beat egg whites in a stand mixer fitted with whisk attachment until foamy. Add cream of tartar (recommended) and continue to beat on medium speed until soft peaks. Gradually and slowly add sugar and beat until stiff peaks. Fold meringue into the chocolate.

In same bowl with whisk attachment, beat heavy cream on medium speed just until thick and a bit fluffy. Do not over-mix or the cream will turn to butter. Fold gently but thoroughly into the chocolate mousse. Portion into 6-8 glasses. Cover with plastic wrap and refrigerate for 4-24 hours.
Marshmallow Meringue
Only make the meringue when ready to serve the mousse. Add egg white to the bowl of a stand mixer fitted with whisk attachment. Beat on medium until foamy.

Add cream of tartar and beat until soft peaks.

Add sugar gradually while beating on medium. Pour in vanilla. Beat until stiff peaks. Immediately place a dollop on top of the chocolate mousse. Torch for a few seconds with a culinary butane torch. Garnish with graham cracker.
Notes
For a gluten free variation, be sure to use gluten free graham crackers.
Coffee: Use decaf or regular. Water may be substituted (2 Tablespoons) but then you should add 1 teaspoon of vanilla to the chocolate sauce (step 1).
Chocolate: You may use any good quality bittersweet or semisweet chocolate bar or chips. Just be sure (if using a bar) to chop the chocolate so it melts evenly.
Egg Whites: The egg whites are torched but not cooked. If you have concerns about this, you may find this report on the safety of raw eggs helpful.
Nutrition
Calories:
344
kcal
|
Carbohydrates:
35
g
|
Protein:
6
g
|
Fat:
20
g
|
Saturated Fat:
12
g
|
Cholesterol:
102
mg
|
Sodium:
160
mg
|
Potassium:
219
mg
|
Fiber:
2
g
|
Sugar:
28
g
|
Vitamin A:
455
IU
|
Calcium:
37
mg
|
Iron:
1.7
mg
Some of the links on this page are affiliate links, which may pay me a small commission for my referral at no extra cost to you!