Heating a salt block low-and-slow takes time but totally rocks. Put simply, this is no ordinary side dish. It's asparagus crack.
We don't often think of asparagus as having umami– that 5th taste somewhere between savory and heaven. Well, it becomes apparent that it's one of the best tasting vegetables with the right formula:
salt block + grill + heat + lemon = asparagus crack
Straight from the Himalayan mountains, your pink salt block is a bed for the asparagus spears. No more asparagus slipping through those grates! Any overhanging stalks get extra exposure to the dry heat.
Because of this, there's a contrast as you bite into it that's part crispy and part plump. While the grill gives the asparagus a char that magically brings out umami, the salt barrier keeps some of the spears juicy. A splash of charred lemon juice mingles with the asparagus juices to dance across every taste bud.
Unfortunately for me, I have a small block that could fit about 1/4 bunch of asparagus. While I thought this would be ideal for serving two people–I ate it all in one sitting. If you have a larger salt block, I'm so envious because you get to cook the entire bunch.
Skip ahead if you know how to heat your salt block or read on for how to cook and clean a salt block.
How to Heat a Himalayan Salt Block: The 20-20-20
As a rule of thumb, you want to heat your salt block slowly, gradually increasing the heat so that it doesn't crack. I like to start with 20 minutes at a low heat, then increase to medium heat for 20 minutes, and then heat for 20 minutes on high.
Before cooking, it's a good idea to test your salt with a splash of water. If the water sizzles and disappears, that means it's hot enough to cook the food.
How to Clean A Salt Block
Food residue and heat affect the color of your salt block. Always allow the salt block to cool completely before handling. After 1 hour, your salt block should be cool enough to clean with a moist scouring pad. Salt is antimicrobial and should not come into contact with soap.
Scrub to remove food debris and wipe clean with a dry towel. Repeat until the block is shiny and clean. Store away from water, in a dry place. I like to store mine in the cupboard on top of a clean towel.
Have you ever cooked with your salt block? I know a lot of people who have them…but they don't cook with them. Well, it's about time that changes. Show them this recipe (they don't know what they're missing).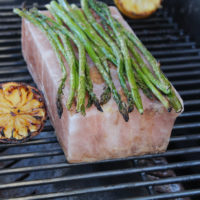 Salt Block Asparagus
Heating a salt block low and slow takes time but oh, is it worth it! Grilling gives the exposed asparagus a crispy, crunchy char and really amplifies the umami. This contrasts with the interior of the asparagus that gets really juicy with a hint of the Himalayas. Charred lemon juice mingles with the asparagus juices to bring the flavor across your entire tongue. You may need a larger salt block–this side dish goes quickly.

Print
Pin
Rate
Ingredients
1

himalayan salt block

8x8x1.5″ or larger

1

bunch

asparagus

tough ends removed

1

tsp

olive oil

1

whole

lemon

cut in half

salt and pepper for seasoning
Instructions
Preheat grill and place salt block directly on grates. Preheat for 1 hour (20 minutes on low heat, then 20 minutes on medium heat, followed by 20 minutes on high heat). Sprinkle with water to test — if water sizzles and disappears, the salt block is ready.


Toss asparagus with olive oil in a large bowl. Use tongs to carefully place asparagus on top of hot salt block. Do not overcrowd the asparagus. You want the asparagus to make contact with the salt block so that it gets seasoned as it cooks. Place lemon directly on grill. Close lid and cook over high heat for up to 30 minutes.


Asparagus cooked over a salt block in the grill will become crispy and crunchy where it overhangs and will shrivel and remain juicy towards the center of the block. Taste before seasoning as it may not require extra salt. Squeeze charred lemon over the asparagus and serve.

Notes
A large salt block is ideal for cooking larger amounts of food. For reference, an 8x8x1.5″ salt block will fit enough asparagus for 1-2 people.
To clean your salt block: Allow to cool for 1 hour. Brush with moistened sponge or scouring pad (no soap). Wipe clean with a dry towel. Repeat until the block is shiny and clean looking. Cooking may affect the color of your salt block over time. Store in a dry place.
Nutrition
Calories:
21
kcal
|
Carbohydrates:
2
g
|
Protein:
1
g
|
Sodium:
1
mg
|
Potassium:
151
mg
|
Fiber:
1
g
|
Sugar:
1
g
|
Vitamin A:
565
IU
|
Vitamin C:
4.2
mg
|
Calcium:
18
mg
|
Iron:
1.6
mg
Some of the links on this page are affiliate links, which may pay me a small commission for my referral at no extra cost to you!