This is my favorite preparation for rack of lamb that's circulating all over the internet in one form or another. In my adaptation, you cook baby potatoes until creamy and crispy underneath the lamb. The potatoes absorb some of the pan drippings from the lamb, along with the essence of thyme, rosemary, and lemon. It's a simple recipe that's big on flavor, that anybody can make.
I just love any cut of lamb, but particularly rack of lamb. It's intensely savory and has just the right amount of fat for roasting at high heat. To get the potatoes just right, you start by par-boiling them in boiling water. I'll show you how to get the perfect texture on those so you have a complete meal in under 30 minutes!
So what's involved?
How to Prepare the Potatoes for Roasting
To start, you set the lamb on the counter to come to room temperature for about 30 minutes. This just helps the lamb cook evenly later. As the oven preheats, drop the golden potatoes whole into a pot of boiling water. Once they are tender, take a spatula and just smash down a bit to give more surface area for roasting.
Seasoning the Rack of Lamb
Season the rack of lamb with salt and pepper and sear on all sides. Do this step in an oven safe skillet, like this cast iron pan. Then just rub dijon mustard all over the meat (tangy and spicy compliments the rich, savory flavor of lamb). Now, dip it in the breadcrumb mixture – breadcrumbs, olive oil, garlic, rosemary, and thyme. I like to wrap a bit of tinfoil around the bone tips to prevent burning.
Remember that skillet from searing the lamb? Place the potatoes on the bottom of that same pan (yep, it's a one pan kind of meal). Season with salt and red chili flakes. You could also add extra rosemary and thyme sprigs to the skillet to infuse the potatoes with a slice of lemon. Now rest the lamb right on top of the potatoes. Into the oven it goes for 14 minutes for medium rare.
Imagine how those lamb drippings are going to season those potatoes. You can't let something as flavorful as a rack of lamb go to waste…
Tip: When you remove the lamb, allow it to rest (tented under foil) for about 5 minutes so the juices have time to go back to the center of the meat. Turn the potatoes over. They will be nice and golden on the bottom.
I hope you love this recipe as much as my family does and make it over and over again.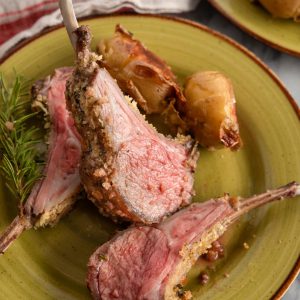 Oven Roasted Rack of Lamb with Pan Potatoes
This oven roasted lamb is coated with breadcrumbs, dijon, rosemary, thyme, and garlic. It roasts on top of small potatoes so that they get flavored with the lamb drippings. The result is incredibly creamy and golden potatoes with moist and tender rack of lamb.
Print
Pin
Rate
Ingredients
1

pound

rack of lamb

14

oz

baby gold potatoes

or baby red potatoes

salt

for seasoning

pepper

for seasoning

olive oil

extra virgin

1

tbsp

dijon mustard

1/2

cup

fresh breadcrumbs

2

cloves

garlic

minced

2

sprigs

fresh rosemary leaves

minced

2

sprigs

fresh thyme leaves

1

pinch

red pepper flakes

1

slice

lemon

for seasoning (optional)
Instructions
Preheat the oven to 450°F. Set the lamb on the counter to come to room temperature for 30 minutes.

Fill a medium pot halfway with water and season generously with salt. Bring to a boil and drop the potatoes whole into the water. Parboil (cook until just tender) for 9 minutes then strain.

Season the lamb with salt and pepper and warm an oven safe skillet (cast iron) over medium heat. Add 3 Tablespoons of olive oil and sear all the sides of the lamb, turning with tongs just until brown. Remove the lamb and rub with dijon mustard.

In a bowl, add the breadcrumbs, garlic, rosemary, thyme, and 1 teaspoon salt, a few grinds black pepper, and 2 Tablespoons olive oil. Mix up and then press the lamb into the breadcrumb mixture to coat thoroughly. Wrap the tips of the bones with tinfoil.

Add potatoes to the skillet and sprinkle with salt and red pepper flakes. Add more fresh thyme, rosemary sprigs, and a slice of lemon to the skillet and set the lamb rack on top of the potatoes. Roast in the oven for 14 minutes for medium rare. Rest the lamb beneath a tent of tinfoil for 5 minutes before slicing.
Notes
Breadcrumbs: To make your own breadcrumbs, you can look for dry stuffing mix or day old baker bread and grind it down in a food processor. It's best to use good quality breadcrumbs that you process yourself with no added seasoning. Rack of Lamb: This recipe is for approximately 1 pound (7 bone) rack of lamb, trimmed and frenched (where the bones are clean looking). You can cook the lamb longer to melt more of the fat and create more crispiness.
Nutrition
Calories:
710
kcal
|
Carbohydrates:
24
g
|
Protein:
27
g
|
Fat:
58
g
|
Saturated Fat:
25
g
|
Cholesterol:
126
mg
|
Sodium:
323
mg
|
Potassium:
315
mg
|
Fiber:
3
g
|
Sugar:
1
g
|
Vitamin A:
45
IU
|
Vitamin C:
9.8
mg
|
Calcium:
30
mg
|
Iron:
4.5
mg
Some of the links on this page are affiliate links, which may pay me a small commission for my referral at no extra cost to you!