Demystifying Delicious
Star Ingredient: Peaches!
Flavor Affinities: PEACHES + CINNAMON + VANILLA + BUTTER
Function: warming
Tastes: salty, sour, sweet, bitter
Textures: juicy filling with soft, crumbly (shortbread like) crust
Ease: easy – moderate
Method: baking via cast iron skillet
Season: Late spring
Wisdom: The essence of peaches is their intoxicating aroma — so I like to to preserve their floralness. I add a little fat and rich, round flavors like vanilla and honey, that's all.
When peaches are in season, I smell them before I see them. Every year, I look forward to biting into a perfectly ripe peach and the dribble of sweet juice down my chin. We've even had some pie weather as of late thanks to some rain. My first thought was to make a peach gallette (free-form tart).
But the more I thought about the juiciness of fresh peaches, the more I wanted to simplify things. It doesn't get much simpler than peach cobbler. This recipe couldn't be any easier and, best of all, it's made in none other than a cast iron skillet (my favorite)!
One of the reasons I love cooking in cast iron is the even distribution of heat and the living breathing quality of seasoned iron. Plus, there's something so rustically charming about peach pie in cast iron. It really contains the juiciness of fresh peaches — but definitely lay down some foil underneath (just in case it bubbles over).
You can opt for a rolled crust as I have or you can skip the rolling and go for a crumbled look. Either way, it will be stunning. I did have a little bit of run off, so I would recommend baking over a sheet tray to prevent a big oven mess. Besides that, my best tip is to brush the crust (rolled version) with a milk and egg wash and sprinkle with sugar.
How to Make Peach Cobbler in a Skillet
Choosing Peaches and Making Adjustments
When baking with peaches, you will want to look for firm but ripe. If you have extremely juicy peaches, I highly recommend tossing them with 1/2 tsp cornstarch/arrowroot/tapioca starch — these will thicken the sauce during baking.
This recipe calls for only 2 Tablespoons of honey because I'm assuming you have ripe (sweet) peaches. If you like a sweeter pie, then increase the sugar to 3-4 Tablespoons of honey and add the thickener just to be safe.
Make the Pastry – Butter Pie Crust
Perfect pastry is my specialty. There are really only 3 rules I want you to know:
Try a Little Tenderness: Do not handle the dough (no kneading). Warm hands is no bueno. Also, you do not want to develop the gluten strands — this is not bread. We want to keep that pastry delicate for the ultimate buttery, soft, flaky texture.
Use softened butter and ice cold water. A pliable butter is necessary to achieve flaky pastry. Never use melted butter. Use a pastry cutter to distribute the butter as much as possible to hydrate the flour.
Use pastry flour to ensure a more tender crust. P-flour = less gluten proteins
How to Roll Pastry Like a Pro
I have a genius pastry hack for you today. From here on out, you can save yourself a lot of clean up by rolling your pie crusts between two sheets of parchment paper. Plus, you can easily move it straight to the refrigerator if you have to.
Sandwich the chilled dough between your paper.
Push the rolling pin down in the center and roll outward in every direction until about 2 millimeters thick.
Make the Peach Filling
Set your cast iron skillet on the stove over medium heat. Warm the butter along with the honey and cinnamon to really infuse those flavors. This is what we want all over our peaches.
Use a pairing knife to cut the peaches in half to remove the kernel. Then, cut each half again. I like really large slices so there is still some texture to the peaches after baking.
Get a Shiny Golden Crust
If you want a crust just like mine, you will need to brush the crust with an egg and milk wash (simply egg whisked with milk). I lightly whisk an egg and add a splash of milk — no measuring.
Then I use a pastry/silicone brush to generously coat the entire crust. I also sprinkle sugar over top and continue baking for another 10-12 minutes. The egg milk wash is designed to give a shiny sheen with a cool, warm vibe due to the yellow from the yolk. It's magical.
Cobbler Style Crust
If you want to simplify this recipe then go with the crumbly crust. After you refrigerate your pastry dough. You can just break the dough off and crumble it over the top of the peaches. One and done!
Don't forget to serve your warm peach cobbler with a scoop of vanilla ice cream for the ultimate peaches and cream delight 🙂
Looking for more pie recipes? Hop on over to my caramel apple pie recipe.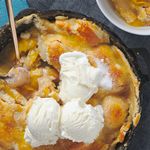 Peach Cobbler Skillet
A simple butter crust can be rolled out or crumbled over fresh peaches for the perfect rustic dessert.
Print
Pin
Rate
Ingredients
Butter Crust or Crumble
1 1/2

cups

pastry flour

1/2

tsp

fine sea salt

8

tbsp

unsalted butter

room temperature

1/3

cup

ice water
Peach Filling
1

tbsp

unsalted butter

2

tbsp

honey

plus more if you like a sweeter pie (see notes)

1/4

tsp

ground cinnamon

1

tsp

vanilla extract

or substitute 2 tsp bourbon or brandy

14

ripe peaches

quartered

1

whole

egg

optional for egg wash

1

tsp

milk

optional for egg-milk wash
Instructions
Make the Butter Crust or Crumble
Place a strainer over a medium bowl and sift the flour and salt.

Use a pastry cutter or 2 forks, cut the butter into the flour mixture until the texture resembles wet sand.

With a wooden spoon, gently stir mixture with water (adding only 1 tablespoon at a time). The goal is to add as little water as possible so that the dough just sticks together.

Gently form into a ball (do not over handle) and cover with plastic wrap. Refrigerate for 30 minutes while working on the filling.

Roll between parchment paper to cover the skillet or crumble over top for a more rustic feel.
Make the Peach Filling
In a medium cast iron skillet, warm the butter, honey, and vanilla.

When the butter mixture is fragrant, turn off the heat and add the fresh peaches. Gently toss to coat then add the crust (cut a vent in the middle). Place the skillet on top of a baking sheet and bake for 30 minutes. Brush the crust with an egg-milk wash and sprinkle with sugar, return to the oven and bake until the crust is golden brown, 10-12 minutes.
Notes
Sourcing Peaches:
Look for firm, but fragrant peaches for cobbler. Overly ripe peaches produce a ton of liquid. If you believe your peaches are extra juicy, definitely toss them with 1/2 tsp of cornstarch, arrowroot, or tapioca starch. This will help create a thick juice as it bakes.
Peaches are a heavily sprayed crop, so I recommend buying organic if possible.
What if I want a sweet pie?
We all have preferences, which is why I'm telling you now, if you like your pie SWEET, add more sugar. You can go up to 1/4 cup of honey. If you do this, I highly recommend adding the cornstarch just to be safe. You don't want too much liquid in there.
Serving Ideas:
This peach cobbler tastes fantastic with vanilla ice cream. I highly recommend a warm slice of cobbler with a scoop of your favorite ice cream.
Egg Milk Wash Purpose and How-to:
If you roll out your crust, you may want to brush the crust with liquid to achieve interesting results. A milk brush will create a soft crust, while egg will give the crust a shiny, warm hue. I love to combine milk with egg and brush my crust then sprinkle with sugar for a speckled effect.
Nutrition
Serving:
1
slice
|
Calories:
312
kcal
|
Carbohydrates:
46
g
|
Protein:
6
g
|
Fat:
14
g
|
Saturated Fat:
8
g
|
Cholesterol:
35
mg
|
Sodium:
149
mg
|
Potassium:
580
mg
|
Fiber:
6
g
|
Sugar:
27
g
|
Vitamin A:
1255
IU
|
Vitamin C:
17.3
mg
|
Calcium:
27
mg
|
Iron:
1.5
mg
Some of the links on this page are affiliate links, which may pay me a small commission for my referral at no extra cost to you!
Thank you for being here! Did you make this recipe? Click on the star rating or leave a comment below. I'd love to hear how you got on. Connect with me @thefrayedapron on Instagram or Pinterest.