Star Ingredient: oats
Flavor Affinities: UNSALTED BUTTER + CINNAMON + BROWN SUGAR + RAISINS
Function: warming
Tastes: salty, sweet, savory (nutty)
Textures: chewy, soft, and a little crunchy
Ease: easy
Method: baking
Wisdom: Oats have a pleasant, nutty flavor (think savory) that's especially noticeable in baking. The point is to play with that by introducing contrasting tastes so that every bite is interesting.
Can I just tell you that oatmeal is so boring to me? I think it's because it lacks the quality that I get from toasted or baked oats. I vastly prefer an oatmeal cookie for breakfast, for example:) Lately, I've been thinking about old fashioned oatmeal cookies, like the kind my dad used to bake with raisins.
And for all you chocolate lovers, yes, there's a time and place for chocolate oatmeal cookies (especially if it's cold outside). But what if you want to accentuate the oats? Chocolate can be a louder ingredient when paired with oats, so I opted for raisins and focused my technique on really getting the right amount of cinnamon, salt, brown sugar, and fat. There's absolutely nothing to hide behind.
Feeling the pressure to nail the perfect oatmeal cookie, I made calculated decisions. For example, these cookies contain 2 eggs plus an extra yolk for that ultra rich flavor and soft texture. I've also opted for quite a bit of butter in order to ensure the oats have enough moisture (they need a lot). Then I seasoned the dough with a full teaspoon of cinnamon (the right amount for raisins).
Last but not least, I combine white granulated sugar and light brown sugar to compliment the oats and to achieve a nice chewy bite. I got the proportions right, but before you get baking, know this — the temperature of your dough will interact with the baking time.
How to Make Perfect Old Fashioned Oatmeal Cookies
Ingredients
Be sure to use fresh baking soda and "old fashioned rolled oats." Always smell your oats to make sure they are not rancid. Use a cinnamon that is less than 6 months old and choose raisins that are moist and fresh — not hard like pebbles.
Timing is Key
To start with, go ahead and set your butter on the counter for an hour. Slightly soft butter is important for creaming the butter and sugar. A fantastic work around if you don't have an hour is to zap the butter for just 5 seconds in the microwave on the "defrost" setting.
A preheated oven is the next tip. No matter what your oven tells you, give it at least 15 minutes and adjust the temperature as needed using a handy oven thermometer.
Understand how the temperature of your dough affects the bake. These oatmeal cookies are easy to make but you have some decisions to make. I tested several versions and found that I like the texture best when the cookie is thick, chewy, soft with just a bit of crunch along the outside. If you like your cookies this way, you will want to refrigerate the dough and work with it slightly chilled.
If you skip the refrigeration of the dough, your cookies will be more on the crunchy side and slightly thinner. To correct for this, you could remove them from the oven 1-2 minutes early, but it won't be the same as working with the chilled dough.
Make Ahead
People who bake cookies for a living swear by the 24-hour rule — where you refrigerate the dough the day before baking to get an improved flavor. I definitely recommend this step if you can afford to be patient. You could also bake a batch. Refrigerate half the dough, and bake the next batch to do a side-by-side comparison. Let me know if you can detect a difference in the chat below!
Rotate the Cookies
Most of us do not have convection ovens, where the heat gets circulated by a fan. Luckily, there's an easy solution: move your trays halfway through baking. The middle rack of your oven is going to be hotter than the top rack, so rotating ensures both trays come out with the same level of doneness.
How to Store the Cookies
Once cool, I like to stack them in a tupperware container and leave them at room temperature. I did notice they were slightly harder the next day, so to keep things really moist you could put a small piece of bread in the container or use one of these nifty brown sugar savers.
How many calories are in these oatmeal cookies?
If you portion about 3 tablespoons of dough, you will get about 28 cookies at 192 calories each. If you substitute chocolate chips for raisins, each cookie will be 218 calories.
Don't forget to enjoy your warm oatmeal cookie with a glass of cold milk.
More Cookie Recipes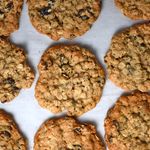 Old Fashioned Oatmeal Cookies
Chewy oatmeal raisin cookies with a soft center and crispy edges made with old fashioned rolled oats. These cookies are the perfect balance of cinnamon, brown sugar, and butter.
Print
Pin
Rate
Servings:
28
3-inch cookies
Equipment
baking sheet trays

parchment paper

stand mixer
Ingredients
1 3/4

cup

all-purpose flour

1/2

tsp

salt

1

tsp

baking powder

1/2

tsp

baking soda

1

tsp

ground cinnamon

3/4

cup

granulated sugar

1 1/4

cup

packed light brown sugar

1 1/2

sticks

unsalted butter

at room temperature (75°F)

2

large

eggs plus 1 egg yolk

1

tsp

vanilla extract

3

cups

old fashioned rolled oats

(do not use quick cooking oats)

1 1/2

cups

raisins
Instructions
Preheat the oven to 350°F. Line baking sheets with parchment paper.

In a medium bowl, whisk together the flour, salt, baking powder, baking soda, and cinnamon.

In a stand mixer fitted with a paddle attachment, add the brown and white sugars along with the semi-soft butter. You can microwave the butter for 5 seconds on the "defrost" setting to speed this along.

Cream the butter and sugar on the medium setting until well combined, 2 minutes.

Beat in the eggs and vanilla. Add half the flour mixture and mix on low for 5 seconds. Add the remaining half and mix for 15 seconds on low until just combined.

Remove the paddle attachment and add the oats and raisins. Use a spatula to scrape and fold until the dough is thick and sticky. Refrigerate (see notes).

Use a measuring cup or spring-loaded scoop to drop 3-inch size balls onto the prepared baking sheets 3-inches apart. Flatten slightly with your palm. Bake for 13-14 minutes, until the edges are slightly brown — rotate trays halfway through.
Notes
Once the dough is formed, I recommend refrigerating for about 30 minutes if you have time. If the dough is cool, bake for 14 minutes. Short on time? Then bake right away but cut your baking time down to 12-13 minutes.
Make Ahead: You can store the dough for up to 2 days in the refrigerator with excellent results (my favorite). Remove the dough 1-2 hours prior to baking for 14 minutes.
Chocolate Chip Variation: If you don't like raisins and want to substitute chocolate chips, reduce the cinnamon to 1/4 tsp and proceed with the recipe as written.
Nutrition
Calories:
192
kcal
|
Carbohydrates:
33
g
|
Protein:
3
g
|
Fat:
6
g
|
Saturated Fat:
3
g
|
Cholesterol:
28
mg
|
Sodium:
76
mg
|
Potassium:
142
mg
|
Fiber:
2
g
|
Sugar:
15
g
|
Vitamin A:
175
IU
|
Vitamin C:
0.4
mg
|
Calcium:
28
mg
|
Iron:
1.1
mg
Some of the links on this page are affiliate links, which may pay me a small commission for my referral at no extra cost to you!
Thank you for being here! Did you make this recipe? Click on the star rating or leave a comment below. I'd love to hear how you got on. Connect with me @thefrayedapron on Instagram or Pinterest.