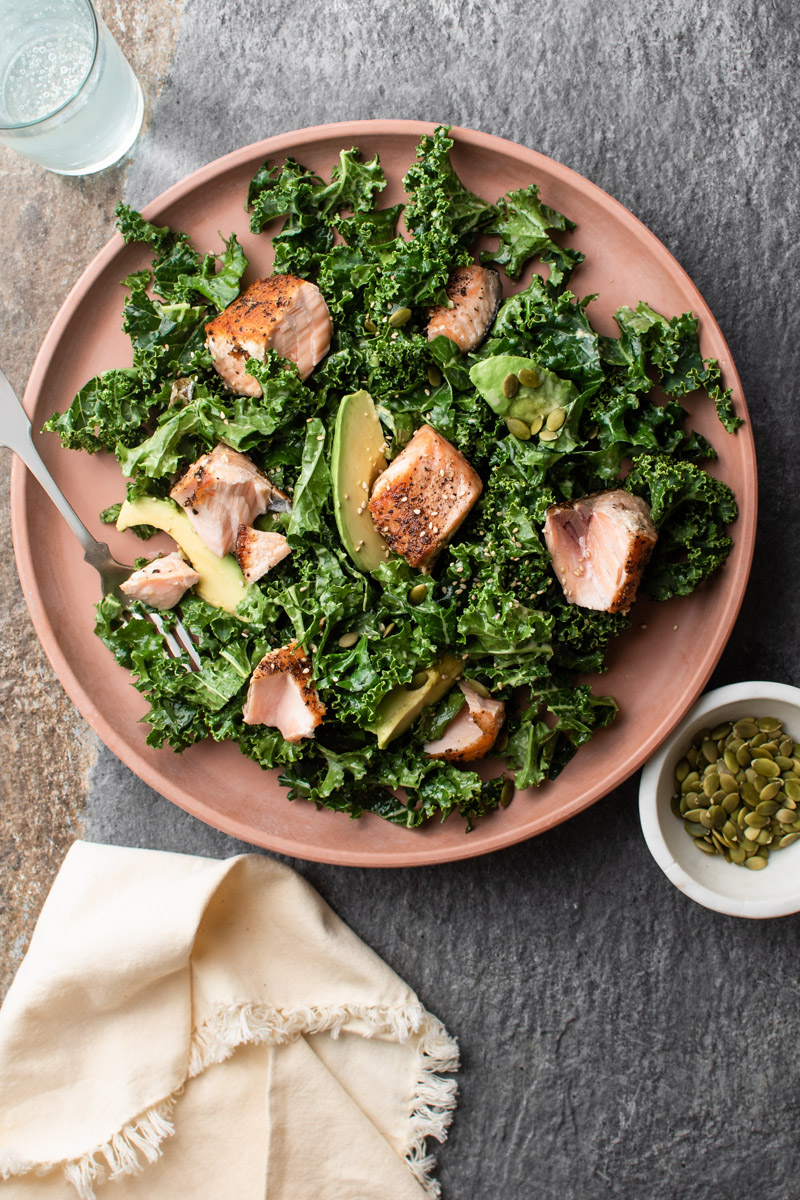 So, I'm currently on a hiatus from all things chicken and decided to swap in pan-seared salmon.
Listen.
This seared-until-crispy thing is really working for me right now. As-in, the salmon is moist on the inside and perfectly seasoned with a salty crusty layer. It's a really simple, good thing, and I can't imagine anything more worthy of fresh fish than this essential lemon sauce. So, this is officially my new go-to kale salad.
Salmon is such a great fish to work with because you can easily feel the flesh and pull out any bones you find with a pair of tweezers. I've taught classes on how to cook fish for many years, so I know that fish sticking and tearing is pretty common. A non-stick pan can work wonders along with a fish spatula to prevent this from happening.
Fortunately, with this salmon salad, we want to tear the fish (so no biggy if this happens to you).
Check Out How to Pan-Sear Salmon in this Video:
Which Kale to Buy
I recommend the flat-leaf Lacinato kale, the same one I used in this Tuscan Kale Salad with Chicken. You can see in the video that I am using a curly leaf kale because my grocery store ran out of the good stuff.
How to Make the Kale Salad – Steps
Step 1 (1-minute): Remove the Salmon from the Fridge
That's it. Just let it sit at room temperature for 30 minutes. Really cold fish does not like heat, so try to budget a little time while you prep the kale.
Step 2 (5-minutes): Make the Creamy Lemon Vinaigrette
You need about 4 small lemons or 2 large for my essential lemon sauce recipe (it's just a creamy, dreamy vinaigrette that you'll want to put on everything). Blend everything until very smooth (at least 1 minute).
Step 3 (2 – 5 minutes): Chop the Kale
Remove the ribs of the kale with a sharp knife if using the Lacinato kale. For curly kale, you can run your fist tightly over the stem and tear it away easily (as I demonstrated in the video). Chop and dry the kale then give it a good massage with the lemon dressing.
Step 4 (8 minutes): Cook the Salmon
Use a non-stick pan coated well with olive oil to sear the fish. The key with cooking salmon is to set it down and let it develop some crust. I like to keep the skillet hot (medium) but not popping with oil or smoking. You need about 4 minutes for the skin-side. How long the other side takes depends on the thickness of the fillet. Look for the flesh to turn opaque and you'll know it's done.
Best Tip: Season the fish generously with salt and pepper just before cooking. Properly seasoned fish always tastes better.
Serving Suggestions
I recommend allowing the fish to cool for several minutes while you plate everything. A good salad is all about layering textures, so I include sliced avocado for creaminess, sesame and pumpkin seeds for crunch, and then I like to tear the salmon into large chunks.
You'll want to taste and add more salt if it needs it. Enjoy as-is for a clean lunch or dinner or try adding croutons or toasted breadcrumbs if you'd like.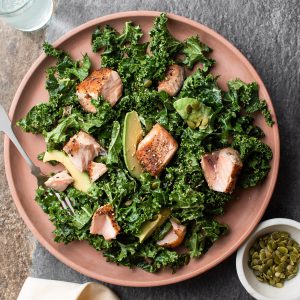 Kale Salad with Pan-Seared Salmon
A bright and creamy lemon vinaigrette over kale with pan-seared salmon, avocado, and pumpkin seeds. This fresh kale salad is gluten free, paleo, aip, dairy free, and whole30.
Print
Pin
Rate
Ingredients
1

pound

salmon

skin-on

2

bunches

kale

preferably Lacinato (Tuscan) kale

1

recipe

essential lemon garlic sauce

salt and pepper

for seasoning

olive oil

for the fish

1

ripe

avocado

1/4

cup

pumpkin seeds

1

tbsp

sesame seeds

optional
Instructions
Prep
Take the salmon out of the fridge 30 minutes prior to cooking. Feel the flesh for any bones and remove with tweezers. Cut into 4 equal size fillets (4-oz each).

Discard the tough stems from the kale. Chop the leaves and pat dry with a clean cloth. Make the lemon vinaigrette in the blender and pour over the kale. Massage with your hands and season with salt. Taste as you do this until you love the way it tastes.
Cook the Salmon
Heat a large non-stick skillet over medium heat with olive oil (about 3 Tablespoons). When the oil is hot, season the fish generously with salt and pepper and begin to cook skin-side down for 4 minutes. Flip and cook until the flesh is opaque (anywhere from 3-6 minutes). Transfer to a plate to cool while you assemble the salad.
Assemble the Kale Salad
Give the kale another swirl in the bowl to sop up as much lemon dressing as possible and serve in bowls. Add freshly sliced avocado and a sprinkle of pumpkin seeds and sesame seeds. Season again with a pinch of salt and pepper and serve with the salmon torn into large pieces.
Nutrition
Calories:
255
kcal
|
Carbohydrates:
7
g
|
Protein:
27
g
|
Fat:
11
g
|
Saturated Fat:
2
g
|
Cholesterol:
62
mg
|
Sodium:
75
mg
|
Potassium:
917
mg
|
Fiber:
1
g
|
Sugar:
1
g
|
Vitamin A:
6539
IU
|
Vitamin C:
78
mg
|
Calcium:
131
mg
|
Iron:
3
mg
Some of the links on this page are affiliate links, which may pay me a small commission for my referral at no extra cost to you!