Add berries, heavy whipping cream, and orange liqueur to your shopping list because you need this dessert in your life.
No matter what berries are in season around you, you can make this recipe work. I just made this for breakfast with orange segments and strawberries, and it was phenomenal. It's an incredibly simple, yet playful, take on a classic spring (early summer) snack – perfectly ripe berries dipped in fluffy whipped cream.
Oh, and that orange liqueur that the berries sit in? This is where the money is at.
I LOVE everything about Grand Marnier (this is not sponsored, just my real opinion), it's sweet but not overly so and slightly bitter with a bright orange flavor. If you can't find Grand Marnier, look for Cointreau or Patron Citronage instead. Just be sure to use orange liqueur because it really bounces off the berries and cream in a way that screams oo-la-la freeesh!
Many years ago, I saw the movie Chef where John Favreau creates this beautiful caramelized sugar that he sort of dusts dramatically over berries and cream. I made a mental note to try it someday, and I'm stunned by how delicious it is in real life.

Grand Marnier Liqueured Berries
Have you ever heard of drunken berries? The idea is that syrupy liqueur coats berries and gets absorbed over time. For this dessert, we use Grand Marnier, an orange infused liqueur, because the clean orange flavor is vibrant and complimentary with berries and cream.
Do you need to cook the alcohol off? I tried this two ways actually. First, I just let the berries sit in the liqueur without cooking it down at all. If you're looking for a really strong alcohol flavor, this is the way to go.
For everybody else, I recommend cooking the alcohol down for about 1 minute on the stove top in a skillet. If you're familiar with flambe (where you light the alcohol on fire in the pan) you can go ahead and do this, but it's not at all necessary (just a blast).
The takeaway? Cook the alcohol with the sugar for up to 1 minute to burn off some of the alcohol for an improved flavor. Pour over the berries and serve or refrigerate and let the berries get flavor drunk.
Salted Whipped Cream
It's a little known fact that salt enhances the natural sweetness in dairy. Since the berries are already sweet, it's nice to have a contrast with a not-so-sweet whipped cream. There's no sugar here, just salt. It will seem a tad too salty by itself, but don't worry, it totally balances out when eaten with the sweet fruit.
How to Make Caramel Powder
Now for the fun part. This caramel powder is like fairy dust. It's pure magic, and it's just delightful with this dessert. You can create instant caramel by heating sugar in a skillet for a few minutes. No need to stir, just move the pan from side to side frequently. Pour the caramel over a sheet pan to cool. Then, grind it into a fine powder using a food processor. In less than 10 minutes, you have caramel powder but be warned. This stuff is addicting. You'll want to sprinkle it on everything, including your morning coffee.
Tip: Use the caramel powder within an hour of grinding if possible. If it begins to clump up, use a sieve or fine mesh strainer to get that light, airy texture. If you need to make the caramel ahead of time, leave it in the solid state and only grind it when you need it. Extremely moist or humid kitchens will make this powder sticky quickly.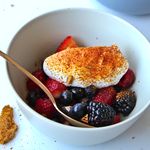 Berries and Whipped Cream with Orange Liqueur
Drunken berries get coated with Grand Marnier then topped with cloud-like whipped cream. This dessert is heavenly with a dusting of caramel powder. Recipe inspired by the movie Chef. Gluten Free and 100% refreshing!

Print
Pin
Rate
Ingredients
1

tbsp

sugar

2

tbsp

orange liqueur

such as Grand Marnier

3

6-oz

containers fresh berries

orange segments work too

2

cups

heavy cream

1/4

tsp

salt
Instructions
Add the sugar and orange liqueur to a small skillet. Cook off the alcohol over medium heat for 1-2 minutes. Remove from heat.


If using strawberries, remove the leaves and cut into quarters. For oranges, cut into segments or supremes. For raspberries, blackberries, or blueberries — simply wash them. Pour the liqueur syrup over the fruit and serve immediately or allow to marinate in the fridge for up to 24 hours.


In a stand mixer fitted with the whisk attachment, add the heavy cream and salt. Beat on high just until the cream becomes pillowy. Be careful not to over-beat or the cream will turn to butter.


To serve, spoon the drunken fruit into bowls and top with a bit of cream. Garnish with caramel dust.

Notes
Fruit Options: This is a very flexible part of the recipe with the idea being fresh and seasonal. Look for a combination of berries (blueberries, blackberries, strawberries) or mix in orange segments. You could even add some sliced bananas.
Make Ahead Tips:
Whipped Cream (yes), make ahead and store in a container in the fridge up to 3 days.
Caramel Powder (sort of), make the caramel and leave it in one big solid piece up to 24 hours. Grind and use same day or it will clump up.
Berries (YES), the berries get even more flavorful when they sit in the syrup. Store them up to 2 days in a container in the fridge.
Nutrition
Calories:
297
kcal
|
Carbohydrates:
5
g
|
Protein:
1
g
|
Fat:
29
g
|
Saturated Fat:
18
g
|
Cholesterol:
108
mg
|
Sodium:
127
mg
|
Potassium:
59
mg
|
Sugar:
3
g
|
Vitamin A:
1165
IU
|
Vitamin C:
0.5
mg
|
Calcium:
52
mg
Some of the links on this page are affiliate links, which may pay me a small commission for my referral at no extra cost to you!
Thank you for being here! Did you make this recipe? Click on the star rating or leave a comment below. I'd love to hear how you got on. Connect with me @thefrayedapron on Instagram or Pinterest.