This garam masala seasoned lentil soup has a hearty mix of vegetables and is full of lively, aromatic flavors. It's a totally practical weeknight dinner, that takes about 30 minutes to make. Plus, you can easily find all of the ingredients to make this soup perfectly.
To really capture what makes this soup warming, we have to talk about garam masala, which means a heating spice blend in the popular Ayurvedic sense where spices are used to elevate body temperature.
What is garam masala made of?
Garam masala is sold as a fine powder made up of ground toasted whole spices, such as cumin, coriander, cardamom, cinnamon, nutmeg, cloves, Bay leaves, peppercorns, fennel, mace and dried chilies. With regional influences from India to South Africa, no two garam masalas will taste the same because there are endless combinations and quantity variations.
My Basic Garam Masala Replacement Blend:
If you want to avoid a trip to the store, you can capture the essence of garam masala with about 4 spices:
1 teaspoon cumin powder
1 teaspoon coriander powder
1/4 teaspoon cardamom powder
1 pinch cinnamon powder
Best Lentils for Middle Eastern Lentil Soup
With endless shapes, colors, and sizes — which lentils should you buy? For the fastest cooking lentil soup, I recommend a small variety such as the orange colored lentils (pictured above) because they only take about 15 to 20 minutes to cook. Plus, I like the way the lentils split and become a part of the soup's broth.
Note: If you want to use a different type of lentil, I suggest following the package instructions because they may need to simmer much longer.
Do you rinse or soak lentils?
No. Unlike beans, there's no need to rinse or soak lentils, which are pulses by the way. If you soak lentils, they have a tendency to glom onto each other and there's just no need for it.
How to Make Curried Lentil Soup – Step by Step
To make this vegetarian soup flavorful, we start the way that we often do with soup: a mirepoix, which is where we sweat onion, carrot, and celery until tender. Next, add the spices but really stir them around in the heat for a bit before adding the water; this simple step helps the spices get into the vegetables for a flavorful layer.
After sauteing the vegetables; add water and lentils. Stir everything well and simmer uncovered for about 20 minutes or until all the lentils are soft and mushy.
Ingredient Tip: Sometimes when lentils sit in the pantry for a while, they harden and take longer to cook. Be sure to try the lentils before serving in case they need more time.
Serving Suggestions and 1-Minute Tahini Sauce
Aleppo chile flakes make the most exceptional tangy and mildly spicy garnish for this soup; unfortunately, I ran out and had to substitute smoked paprika. My suggestion for serving the soup as a complete meal is to include either pita chips or warmed pita bread with something bright to contrast the earthy, savoriness of the soup: lemon tahini sauce works, a salted lemon soda works, or a few strips of preserved lemon rind for a really floral bite.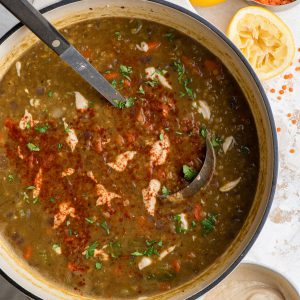 Warming Lentil Soup with Garam Masala
Packed with warming spices, this nourishing lentil soup recipe is hearty and quite the aromatic experience. Made in just 1-Pot in less than 30-Minutes with lemony tahini sauce as a garnish. For dramatic effect (and flavor), I love to serve this soup with pita chips dusted with Aleppo pepper.
Print
Pin
Rate
Ingredients
Lentil Soup
1

medium

red, white, or yellow onion

chopped

2

carrots

chopped

2

stalks

celery

chopped

3

tbsp

olive oil

2

tsp

ground cumin

2

tsp

curry powder

1

tsp

garam masala

1

tbsp

salt

1

tsp

pepper

6

cups

filtered water

2

cups

orange lentils
Tahini Sauce
¼

cup

Tahini paste

1

lemon

juiced

1

tsp

salt
Instructions
Make the Soup
In a large pot, sweat the onion, carrots, and celery over medium heat for 7 minutes, stirring occasionally until softened. Add the cumin, curry powder, garam masala, salt and pepper and cook until aromatic, 2 minutes. Pour the water over the vegetables and add the lentils. Stir well then cover and simmer, stirring occasionally until the lentils are tender and cooked through, about 20 minutes.
Make the Tahini Sauce
In a small bowl, combine the tahini paste with fresh lemon juice and microwave on high for 30 seconds to soften the tahini paste. Stir to break up any clumps (thin with water if necessary). Season with salt to taste (about 1 tsp).
Serve the Soup
Serve the soup hot with tahini sauce drizzled on top. Dust with Aleppo chile flakes and sprinkle with parsley or cilantro. Serve with pita chips, if desired. Store leftover soup for up to 3 days in the refrigerator.
Notes
Tahini Separated 
Tahini butter has a tendency to separate, where the sesame seed oil sits on top; I recommend stirring well before measuring. The reason I suggest warming the tahini butter for the sauce is to help you achieve a stirrable, smooth consistency.
Nutrition
Calories:
212
kcal
|
Carbohydrates:
9
g
|
Protein:
3
g
|
Fat:
13
g
|
Saturated Fat:
2
g
|
Sodium:
1202
mg
|
Potassium:
286
mg
|
Fiber:
2
g
|
Sugar:
2
g
|
Vitamin A:
3803
IU
|
Vitamin C:
17
mg
|
Calcium:
55
mg
|
Iron:
2
mg
Some of the links on this page are affiliate links, which may pay me a small commission for my referral at no extra cost to you!