A Passion for
LIVING WELL
From New To Frayed.
This Apron's Story
Welcome to The Frayed Apron: a food blog that celebrates the merits of cooking as a part of living a long life filled with flavorful, healthy food. I'm Sara, a passionate chef with culinary training in health supportive cooking, and a mindset that good nutrition does not have to mean sacrificing flavor, creativity, or indulgence. Here, I invite you to discover new cooking techniques, ingredients, and thoughtfully crafted recipes — shared in an environment of infectious positivity — so that you have the foundation for living life well.
video: audio overlay: The Frayed Apron is more than a food blog. It's a way of thinking, a way of life. I know you are very conscious of ingredient quality and what you put in your body, and what's important to me is taking what you want to eat and making it healthy and surprise you with flavor at the same time. (this is one of my favorite x, this is a x) I like to think that The Frayed Apron makes it easier to enjoy high quality food every single day. It's the foundation and inspiration for the recipes you see here. I take any given ingredient and the first filter is flavor and if it will fit with the given dish that I'm doing. If it tastes good, then the next filter is seasonality, is this ingredient available right now and what are the factors that affect quality — whether that be choosing organic, local, or sustainable.
The creative process for all the food, including drinks, is to start with the ingredient. Every ingredient that I use has such nutrient density that it becomes the star of the plate. Really, I think a part of my job as a chef is to introduce freshness to people and seasonality. The Frayed Apron has a tremendous focus on being able to help people customize any meal for any need. Sometimes when people have a dietary need and they're looking to feel satisfied, it's daunting to eat at a restaurant or find recipes for everyday eating, but I get to do something really special, where I actually get to give them the means to enjoy high quality food that they wouldn't be able to get anywhere else. (the lemon ice cream is amazing. Is it gluten free? It is gluten free). It's very satisfying to be able to create a space for people to discover new ingredients and be able to make it easier for people to cook great food and especially the kind of food that want to eat every day. It's really amazing to be able to share that passion and knowledge with people and be able to change lives in the process. It's really what a frayed apron stands for.
image: apron (more frayed)
Eating Well Means Living Well.
The Frayed Apron embraces the values of the anti-inflammatory diet, which provides a system for selecting foods in their more whole state.
[picture of food pyramid]
Anti-Inflammatory Pyramid
Here, I believe in a lifestyle that encourages simple, balanced eating habits — a way of incorporating higher quality foods that decrease inflammation — so that food selection is an enjoyable part of living well.
[image: apron (more frayed)]
Every Ingredient Matters. In Every Recipe.
Nature provides an abundant selection of fruits and vegetables at the peak of freshness, so that eating well is always in season.
[picture row: fresh peppers, kuzu root starch, blueberries]
And Ingredient Quality Matters.
Getting Closer to the Source
Preparing food at home is one of the best ways to ensure that the food your family eats is free of pesticides, preservatives, and industrial practices that degrade nutrients. Regardless of location or budget, find out how The Frayed Apron can help you source better food for your family.
[small inset video: next to above text (about sourcing better quality food)]
[video: organic definitions, what does natural really mean, ingredient labels, dirty dozen (include link in video)*set up subscription for printable version]
[image: apron (more frayed)]
Innovative Recipes Keep Your Cooking and Eating Fresh.
Allow Me to Introduce Myself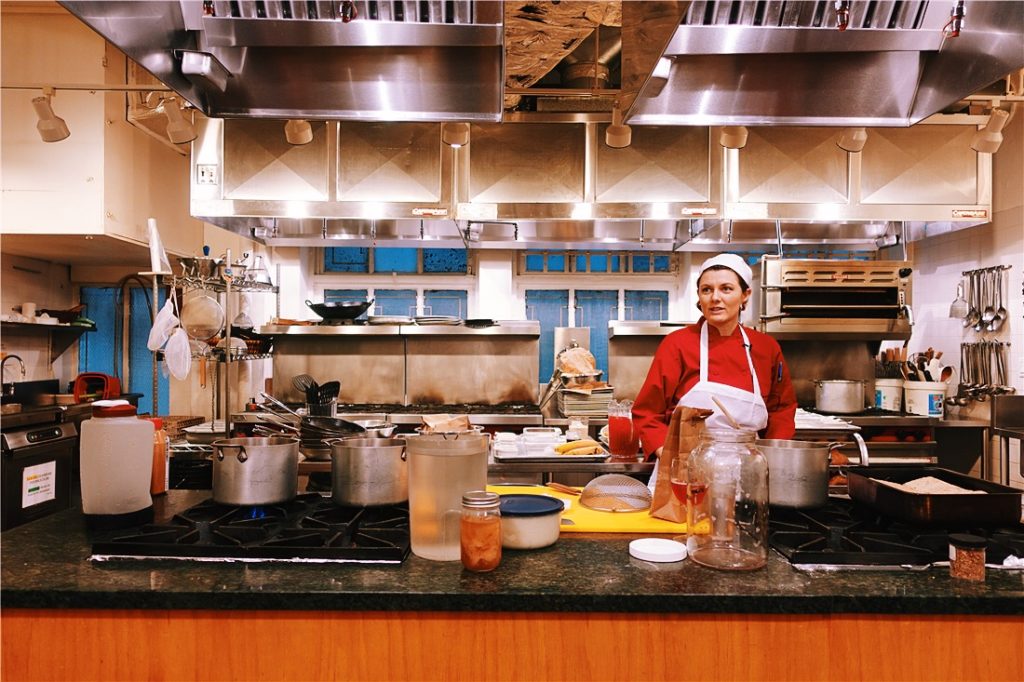 Chef – Photographer – Writer
Sara Furcini
As the voice behind the recipes, I am greatly influenced by new ingredients and adventurous flavor pairings. My culinary expertise, penchant for fresh cuisine and quest for global inspiration are behind the memorable dishes you will find.
[picture of me: headshot wearing apron (also for rest of site)]
image: apron (more frayed)
I treat every reader as an individual.
Enjoy Your Food the Way You Want It.
I share cooking techniques to help you hone your craft as a cook and provide recipes as guidelines to support your unique dietary journey.
*prefer single row gallery of 4 with bold text label underneath and caption
Gluten Free – No problem. You can make it gluten-free — whether it be a pizza, pancake, or pasta

Vegetarian – Sure thing bub. Many of the base recipes are vegetarian in nature — and just about everything else can be adapted that way.

Vegan – Absolutely. With 8 years of experience eating vegan, I have all the insider tips for making creamy vegan ice cream that tastes better than anything you can buy in the store.

Your Way – There's no recipe that can't be customized. No matter how you want it, I'm happy to answer your questions about ingredient swaps
Cooking Well Begins With Technique.
A frayed apron represents mastering the art and science behind the recipe. No matter where you are in your cooking life, my free tutorials make it practical for home cooks at any level to cook like a pro.
knife skills class: your confidence will soar as you learn how to hold a knife and the cuts behind all the recipes you will encounter.

Basic Cooking Techniques: For every technique you master, you'll be increasingly capable of adlibing fresh meals at a moment's notice.

In-Depth Herb and Spice Workshop: expand your knowledge base and tap into the wide world of flavor and aromatics.
buttons beneath each image with details (*subscribe for email sequence)